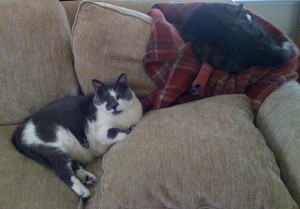 The story:
This is Jean Luc (the gray and white on the couch) and Duncan (the tabby with his back to the camera on the red blanket). They are about 12 years old, adopted from Angell Memorial in Jamaica Plain, Mass. The shelter is next door to the hospital, the largest animal hospital in the country, but I was told they are not officially affliated with one another.

Anyway, four cats were found in an abandoned house in Roxbury. I went to the shelter with plans to adopt one female tabby, and saw Duncan first and loved him. He's a very affectionate cat. I saw Jean Luc and I thought he was so handsome and I couldn't decide between them. Then I found out they were the last two of the group of four so I adopted them both. They were about one year old at the time. Duncan was named Spock and, not being a Star Trek fan, I changed it. Jean Luc is named after Jean Luc Picard apparently, but I liked the name so I kept it.

I got cats because at the time I travelled a lot for business, short trips but a lot of them, so I wanted a pet I could leave alone for a day or two at a time. Well, about six months after I got them Jean Luc was diagnosed with both an enlarged heart and asthma and needed meds twice a day. So he's cost me a fortune, between many, many vet visits, tests, procedure, medicine and cat sitters. But I adore him. I sobbed like a baby when he was first diagnosed and I thought he might die, even though I'd only had him for about six months. I wouldn't trade him for anything. Or Duncan. I love them dearly. They've been the most consistent and constant thing in my life for 11 years. I cant even think about my life without either of them.
Keep the stories and pics coming in (although I have about 20 lined up right now).