Dick Cheney is still vice-president. We have two now.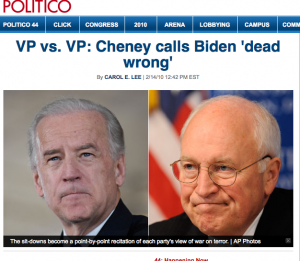 In the run-up to the Iraq war, Dick Cheney's appearance on Sunday morning shows was coordinated with stenography in the New York Times. Now it's coordinated with stenography in Politico. The more things change…
Update. Comment #3 on this Politico piece (h/t demo woman):
It is not Cheyney who is rewriting OUR History, it is the Blacks and the Liberal Murdering Professors! The BLACKS lay claims to; Finding America, Winning the Revolutionary War, The Civil War, all of the Wars after that. They have Invented every good thing known to man. Have a MONTH just for them. Their own Beauty Contest, Racist Organizations set aside, for which my taxes go. Yet as we look around the Globe, at Africa, and every Black Ruled territory, they are stuck in the stone age. So, go ahead and rewrite it. We know the truth, and we know about the Muslims and Blacks!!