Took a bunch of pictures of Lily in the snow this morning, but none of them turned out very well except for this one: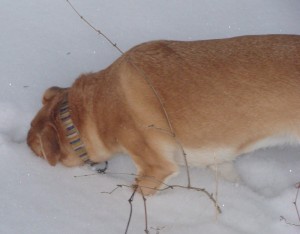 We just had a bath, and now we are going to Woof's to get some dog stuff and some catnip for his royal highness. No matter how many baths she gets, she always acts like I am murdering her, then the moment we are done she runs around he house flinging herself on the furniture like she is having the time of her life.
It's pretty damned adorable, especially when she runs by Tunch and he takes a swat at her.