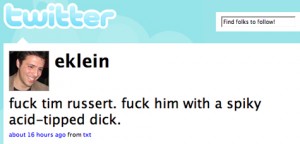 He renounces it now, of course, but still, good for him for writing it in the first place.
(Washingtonian via Wonkette)
Maybe this is the Malbec talking but I think "Fuck Tim Russert" might be a good new category tag.
Update. This was well before Russert died, so there's nothing tasteless about it.