This picture was taken in Portland, Maine.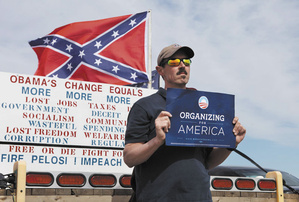 I like the conclusion to the article accompanying the picture:
Jeremy Haskell was out walking his black Labrador retriever, Jeter, when he encountered the rally.

He said he is a lifelong Mainer and hunter but doesn't have a need to flaunt a gun in public.

"I just don't get it," said Haskell.
It's not about the right to bear arms, is it?
Update. Another article about this:
The flying of a large Confederate flag at a gun rights rally at Back Cove startled onlookers Sunday, even causing an African-American teenager to refuse to leave his vehicle out of fear, witnesses said.
Thank God we now live in a post-racial world.