Kevin Drum passes along this chart from Steve Benen showing private sector job losses and gains from 2008 through August of 2010. The red is the part where the economy tanked after eight years of Bush administration policies, and the blue part is where the Obama administration started to patch things up. The scary part is the part we can't see yet.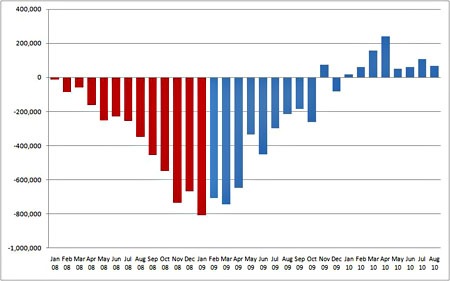 Despite jobs added over the summer it sure does look like private sector hiring is grinding to a halt, as Kevin suggests. That means we can either look forward to another dip or we can do something about it. Doing nothing at this point would be a big mistake. Maybe I'm just turning into a latter-day Keynsian, but I find this Krugman column pretty damn convincing.
What I do know is that if the Republicans take back Congress this year, there's only so much time Democrats have to enact more stimulus spending – and don't count on anything but dirty tricks and obstructionism from a GOP controlled House. The clock is ticking, folks. Pretty soon all attempts at actual policy making are going out the window. All we'll have to look forward to are witch hunts, another great American pastime to be sure, but not a very good stand-in for actual economic recovery.