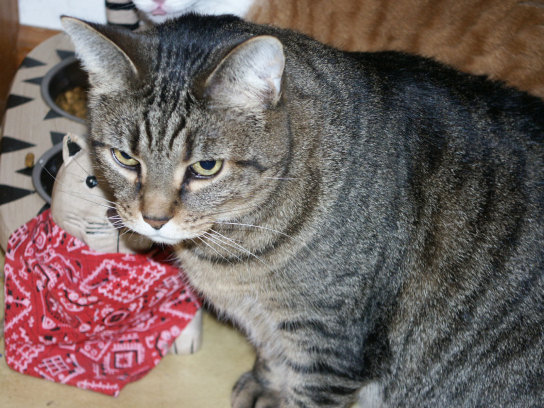 From commentor Monza:
In the pic I've attached is my buddy Jack. About 7 years ago, he started showing up at my workplace every day. He was coming from the woods behind the building. I didn't pay him much mind, until I saw him fight off a mama fox. I was really impressed after I realized that he was de-clawed in the front and fixed, so someone had dumped him and he could still take care of himself. After letting him hang around me at work for a few days, I realized that he was really a great cat & I wanted to take him home. I knew he was smart because after a couple of days he learned to hide from us in the building after the afternoon UPS truck arrived because he knew he would be put outside after that. (Couldn't leave him inside with the alarm on). I pleaded with the wife for days, always getting a no from her. I promised her that she would love him if she just met him. Finally she relented & agreed to meet him. The rest is history…
__
After two $350 vet bills, we finally figured out why they dumped him. If he doesn't eat the right food, he gets crystals in his urine which plug up his bladder. He does his best to let out a little spray of urine in front of you as his way of saying that there is something wrong. His previous owners either didn't like the vet bills, extra expense of his food, or his spraying, so they left him to fend for himself.
__
When we first got him, he looked healthy. The vet said he was about 12 pounds and about a year and a half old. (The pic dates from about 2004). Now he's right around 20 pounds. He's not just fat either, he really is "big boned". His skull is like twice the size of his mini-me Clover, our 2 year old rescue. And his favorite place is either in a lap, or right next to you.
__
We've got 3 cats and 5 rats altogether. Clover, and two of our rats, were rescues from the humane society.