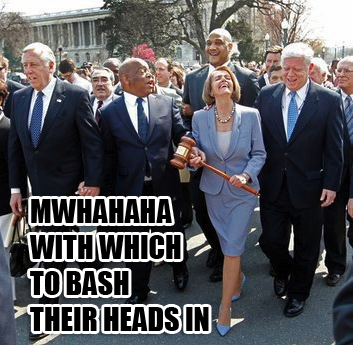 Nancy broke out Thor's hammer and once again gets it done:
The House of Representatives voted Wednesday to overturn the ban on openly gay and lesbian soldiers serving in the U.S. military, passing legislation repealing the controversial "don't ask, don't tell" policy.

The bill — a so-called "standalone" measure not tied to any other legislative items — passed 250 to 175 in a virtual party-line vote. It now advances to the Senate.

The House previously passed a repeal of the ban as part of a larger defense spending authorization bill, but the measure stalled last week in the Senate.

"Now is the time for us to act," said House Speaker Nancy Pelosi, D-California. "We should honor the service of all who want to contribute" to America's security. "Repealing 'don't ask, don't tell' makes for good public policy."
Now we get to sit around and wonder what kind of bullshit excuses Scott Brown, Susan Collins, Olympia Snowe, Joe Manchin, and the other "moderates" come up with to block the bill.