You snow crybabies can shut your pieholes unless you see this when you look out your windows (more photos here):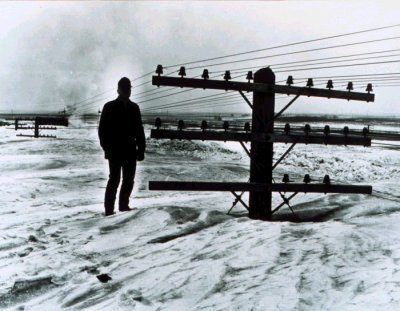 One of my earliest memories is from that blizzard (March, 1966). I remember watching my Dad bundle up in two pairs of pants (an old farmboy trick) so he could walk to a neighbor's house and deliver a baby. Mother and baby did fine. Dad grew up a few miles from where the picture above was taken.
That story pales in comparison to this one from the current (paper) issue of South Dakota Magazine, which I've included after the break:
Every other South Dakota pilot knew enough to stay on the ground on March 20, 1947. A wicked spring blizzard was raging across West River. However, well-know Spearfish pilot Clyde Ice's mind wasn't on the weather. His son Randall had died in an airplane crash several days earlier. The funeral was scheduled for that very afternoon

Dr. Gordon Bettis knew that his pilot friend was grieving, but the Spearfish physician was in a dreadful bind. He was needed 80 miles north, on a Harding County ranch, where young Eleanor Peterson was going into early labor. Dr. Bettis talked to every pilot in town and none were willing to risk a flight. Finally he called Ice, who agreed to meet him at the airport south of town.

"It was a whiteout" […] Once in the air, he followed a telephone line to the Little Missouri River, sometimes flying within 10 feet of the wire, then used the timbered shoreline to guide him to the Peterson ranch […]

Once they'd landed, he suggested they stay at the ranch until the storm blew over. Dr Bettis explained that the newborn baby […] weighed barely three pounds and would not survive without an incubator.[…]
They flew back in conditions Ice compared to having a pillowcase over his head. The baby spent three months in the incubator, survived, and she's now married with three kids.
Of course, this kind of heroism (or, more correctly, "professionals doing their jobs") happens all the time in the Northeast, as it did in New York City during the past couple of days, with some help from New Jersey.