Anyone remember this:
As I documented at length this weekend, Michelle Malkin, John Hinderaker, Red State, David Horowitz and many others of that sort spent the weekend engaged in the most vicious and self-evidently misguided attacks on The New York Times based on a puff piece in this weekend's "Escapes" section. Because the article contained a photograph of Don Rumsfeld's vacation home, they insisted that this was reckless and even retaliatory– i.e., done with the intent to enable Al Qaeda operatives and other assassins to murder Rumsfeld (as well as Dick Cheney), and that it was further evidence of the war being waged by the NYT and its employees on the Bush administration and the U.S.

For so many obvious reasons, based on easily obtainable information — including the fact that multiple right-wing news outlets such as NewsMax and Fox and others had previously disclosed this same information months earlier, that this information is commonly reported about government leaders in both parties, and the fact that we always know where our top government officials live and spend their weekends because they have Secret Service protection — these accusations were as false as they were hysterical.

***

Ironically, photos were taken with Secretary Rumsfeld's permission.
That, of course, led to them doing the following:
This weekend, prominent neoconservative David Horowitz proclaimed that the United States is fighting a war and "the aggressors in this war are Democrats, liberals and leftists." In particular, he cited the now infamous NYT Travel section article on Dick Cheney and Don Rumsfeld's vacation homes as evidence that the employees of the NYT are among the enemies in this war, and he then linked to and recommended as a "proposal for action" this post from his associate, Front Page contributor Rocco DiPippo. The post which Horowitz recommended was entitled "Where Does Punch Sulzberger Live?" and this is what it said:

I issue a call to the blogosphere to begin finding and publicly listing the addresses of all New York Times reporters and editors. Posting pictures of their residences, along with details of any security measures in place to protect the properties and their owners (such as location of security cameras and on-site security details) should also be published.

DiPippo published the home address of NYT Publisher Arthur Sulzberger, along with directions to his home, and linked to a post by right-wing blogger Dan Riehl which contained directions to Sulzberger's home along with photographers of it. In a now-deleted post, DiPippo also published the home address of Linda Spillers, the NYT photographer who took the photograph of Don Rumsfeld's vacation home (with Rumsfeld's express permission), and he urged everyone to go (presumably to the home address he provided) and confront Spillers about her actions.
Good times. Just thought that was worth remembering that publishing an aerial shot of a house is a call to violence now that I have learned this week that it is completely inappropriate for people to be upset about violent rhetoric and crosshairs over politicians after one of the targeted politicians is almost assassinated by a deranged lunatic. Normal people might think this is reasonable, even if the assassin wasn't directly motivated by said rhetoric. It's just the sane way to look at things, or so I thought. I've also learned, interestingly enough, that opponents of gun violence have a moral obligation to just shut the fuck up about gun violence whenever there is… horrible gun violence. Additionally, I've discovered that when you say "We need to tone things down a bit and tamp down the violent rhetoric," you are actually launching a full frontal assault on Republicans. Who knew?
I try to keep up on the rules of discourse, but it is so hard these days. On the upside, at least the shooter didn't do something really horrible, something that might have sent the right-wing into a full-on frothing tizzy. Something like say "putting lipstick on a pig." If that shit had happened, Republicans would be calling for apologies and more civil discourse. As it is, he only put a bullet in a Democrat, and it is totally unreasonable to look around at violent imagery and rhetoric and tell people to stop it. Because shooting liberals, as we know, is no big deal: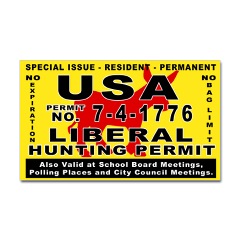 Provided the right paperwork, of course.