DougJ has already noted that the Murdoch empire fumbled the whole hacking scandal, but I thought it was worth noting that the recent fire sale of MySpace cost News Corp a hell of a lot more:
So all things considered, MySpace has cost Murdoch's empire something like $1.3 billion. Even if my assumptions are way off, the final cost can't be less than $1 billion.
News Corp bought MySpace for $580 million in 2006, ran it into the ground, and sold it for $35 million last month. Let's see what the market has to say about that (click to embiggen):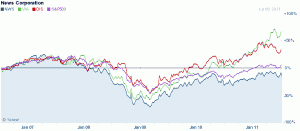 For the past few years, News Corp has underperformed Disney, Viacom and the S&P 500. Don't get me wrong — Rupert's company is still profitable. It just isn't making money for its investors.