Via GOS, further signs that the apocalypse is upon us — or at least is descending on the GOP.
Yup, Alan Simpson, Catfood Commissionaire Extraordinaire,  he of the milk cow with 310 million tits, has noticed that we might do with a bit more tax revenue just now, not to mention a Republican Party that actually, you know, cared about the country:
"The stuff that's going on in my party, where the -– pettiness overcomes the patriotism -– it's just disgusting to me," he told ABC News. "Reagan raised taxes. We've never had less revenue to run this country since the Korean war."
Also as noted in that DKos story, Bill O'Reilly — yup, that one — is calling for more revenue.  Admittedly, and unsurprisingly, his is the worst possible idea, a truly regressive 1% national sales tax.  Heaven forfend that he and his stratospheric income buddies should actually have to pay even proportionately in any tax plan, much less progressively.   But still:  BillO is saying we need to raise taxes — and in this as in so much else, there's no such thing as being mostly virginal.  If a sales tax is on the table, then so is an income tax rate change, hedge fund loophole closing and all the rest.
And back to the point:  it's getting to seem like the only ones who think that the GOP Congressional delegation could manage a rowboat, much less a country, is some falling fraction of that caucus itself.
I'd feel schandenfreude if I hadn't sat with my college-bound nephew last night, reviewing yesterday's events, and then feeling compelled to apologize to him for hideous mess we are preparing for him and his.  I couldn't even think what I might say to my eleven year old.
But here's hoping that we might just be seeing the collapse of the Grand Old Party.  There are lots of real arguments a true oppposition party could make that would matter.  But not the GOP as it now.  It's tearing itself apart along lines long noted here and many other places. It couldn't happen to a more deserving bunch…but for this: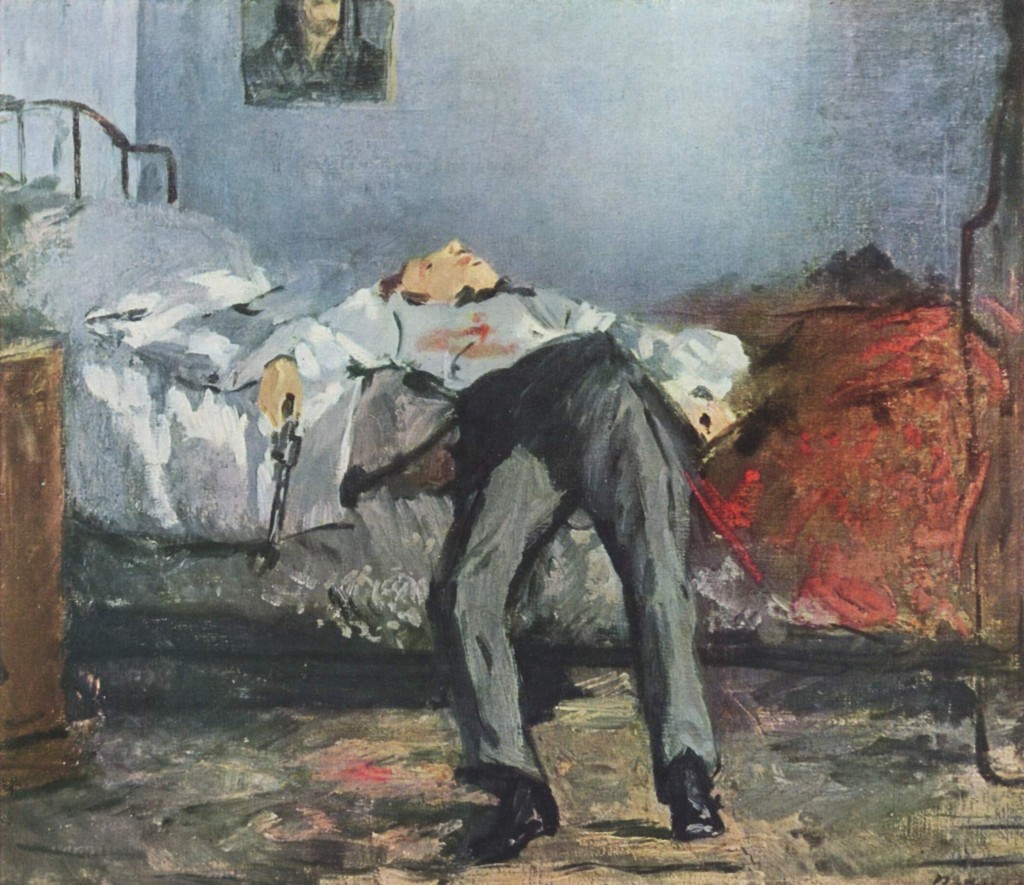 The collateral damage. What we don't know yet is whether the current Republican Party will merely collapse in self-destruction, or will manage to drag the rest of us down in what would amount to a murder-suicide.
Image:  Éduoard Manet, The Suicide, 1877-1881.