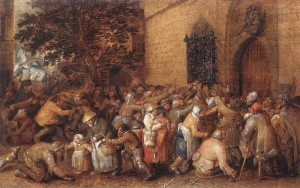 The lovely harlana notes that:
Ordinary people have sacrificed enough already. Come on! I saw 2 people on the blog last nite who have recently lost their jobs. I really wish we could have an open thread for that, for their stories, nobody around here seems interested.
I don't know very much about struggle and hardship (not least because I'm imaginary), but I am happy to admit that in a week when London is burning, stockbrokers are behaving like Michele Bachmann in a k-hole, and thousands of Somali children starved to death, listening to those in our little community who are having hard times is much more worthwhile than yet another post about Sullivan or McArdle or Brooks.
Have at it.
ETA: Via Arguingwithsignposts:
The Slacktivist does this, I just noticed. Here's his post format:

Job seekers: Let us know where you are and what you're looking for.

Everybody: Skim through and see if you know something, or know someone, or know someone who knows someone, who might help out one of our job seekers.
Duly stolen. And yes, feel free to mention friends or family.
[Image: David Vinckbooms (1576-1632) –
Distribution of Loaves to the Poor
.]