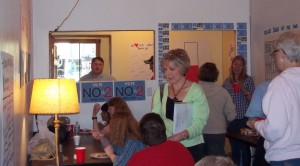 In Ohio, we're trying to use a citizen veto to overturn Ohio's new union-busting law. The first part of the process involved collecting more than a million signatures to put a referendum on November's ballot. Now that the issue is on the ballot we have to get enough "no" votes to prevent the law from taking effect. The organization leading the effort is called We Are Ohio, and the objective is "Vote No on Issue Two".
I wrote about how we did a We Are Ohio local event here about a month ago. At last month's gathering, we compiled a list of attendees. I went to another We Are Ohio event last night in a county east of where I live. I gave the list we had compiled at last month's local event to the (paid) organizer who is now on the ground. She'll add our list to the names she's collected herself in the two weeks she's been working in this area.
Several firemen spoke to us at last night's event and explained why they have joined the effort to try a citizen veto of Ohio's law that strips collective bargaining rights from public employees. I suspect one of the fireman-speakers last night is (or was) a GOP voter. I believe this because the fireman was careful to refer to the folks who passed this law as "politicians". I'm finding that the Republicans who are active in this thing rarely use the words "Republican" or "Kasich", although the facts are that the bill was drafted by Republicans, passed by Republicans, and signed by former Fox News personality, John Kasich.
Too, the fireman spoke with what sounded to me like a real sense of betrayal and that's another common theme I'm hearing. He said he never imagined that teachers, police officers and firefighters would somehow end up as "the problem" because everyone, at one time or another, has relied on a teacher, a police officer or a firefighter. He said "I didn't know I was next". At that point, a UAW member in the crowd shouted "I always know I'm next!" and everyone laughed.