I'm not sure if you all are aware of the little Bhopal disaster we have going on here in my neck of the woods up in East Palestine, Ohio, but if you are not, you can hardly be blamed. The media is barely covering it and it's actually fucking flabbergasting. Most of the information I have seen has come from twitter and tiktok.
At any rate, about fifty miles from mere as the crow flies, up in East Palestine, Ohio, a Norfolk Souther train derailed last week. Here's a handy map showing where I live and where the accident occurred: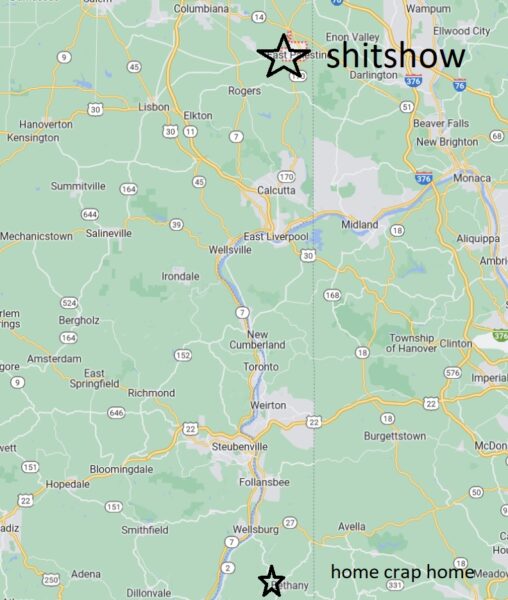 The trains were carrying a load of toxic chemicals that are dangerous in their own right, but when on fire, are basically the gas used in WW1 in trench warfare. Don't take my word on it, here are a bunch of nerds at Chemical and Engineering News breaking it down for you:
An evacuation order issued following the derailment of a Norfolk Southern freight train carrying vinyl chloride in Ohio was lifted Feb. 8 after state and federal authorities determined that air and water quality were safe for residents to return to their homes. But questions remain about the safety of transporting the hazardous chemical.

People living near the accident, which occurred Feb. 3 in East Palestine, Ohio, a town of about 4,700 residents on the Pennsylvania border, began leaving immediately as a column of black smoke rose over town. In an effort to avoid an explosion, railroad and state authorities began a controlled release and burn of the vinyl chloride Feb. 6. Earlier that day, the governors of Ohio and Pennsylvania ordered an immediate evacuation of a 1- by 2-mile area that crossed the state line.

In all, about 50 cars—20 of which were carrying hazardous materials—left the tracks in the accident. Of most concern were the 5 carrying vinyl chloride. In a statement announcing the evacuation order, Ohio governor Mike DeWine warned that people closest to the derailment faced "grave danger of death."

While vinyl chloride itself is a carcinogen, the burning of the chemical, which releases hydrogen chloride and phosgene, can be immediately lethal. Phosgene, a highly toxic, colorless gas with a strong odor, was notoriously used as a weapon during World War I.
It's bad. There were evacuations, but they were too little too late, Norfolk Southern and Gov. DeWine are assuring people it is safe now and the water is fine, but it's not. And to prove their transparency, they arrested the only national reporter covering the press conference:
A NewsNation correspondent was arrested on Wednesday after he began reporting live during a news conference held by Ohio authorities regarding a train derailment – an incident police said involved a confrontation between him and a National Guard official after he was told to stop speaking during the governor's remarks.

Law enforcement officers interrupted NewsNation correspondent Evan Lambert as he broadcast from the event, where authorities announced they were lifting a multiday evacuation order near the site of a fiery weekend derailment in East Palestine, Ohio.

An argument then broke out between Lambert and Harris, who pushed the reporter away from him as Lambert was approaching Harris "in an aggressive manner," police said.

After Harris reported the interaction to law enforcement, officers told Lambert he needed to leave the building because the situation had "evolved into a physical confrontation and required law enforcement intervention," police said. After Lambert refused, the officers tried to de-escalate by asking him to step outside to talk, but Lambert did not, police said.

The reporter was then advised he was under arrest and escorted out of the building, at which time he tried to pull away, according to police.
This is, of course, bullshit coverage. An argument didn't break out. A fucking cop and a meathead in the National Guard came and told him he was not allowed to do his job and then they arrested him.
At any rate, a direct line can be traced from this disaster to the policies of Norfolk Southern, which, conveniently, is majority owned by hedge funds (Vanguard, Blackrock, JP Morgan, etc), who have slashed maintenance, slashed crews, and done all the usual shit to maximize profits. This is exactly what rail workers were protesting last summer that… got shut down by congress.
So, yeah.