I was so delighted by this post by Chrisdonia at Central Station, I had to sit down and write another book post.
One day in March, staff at the Scottish Poetry Library came across a wonderful creation, left anonymously on a table in the library. Carved from paper, mounted on a book and with a tag addressed to @byleaveswelive – the library's Twitter account – reading:

It started with your name @byleaveswelive and became a tree.…
… We know that a library is so much more than a building full of books… a book is so much more than pages full of words.…
This is for you in support of libraries, books, words, ideas….. a gesture (poetic maybe?)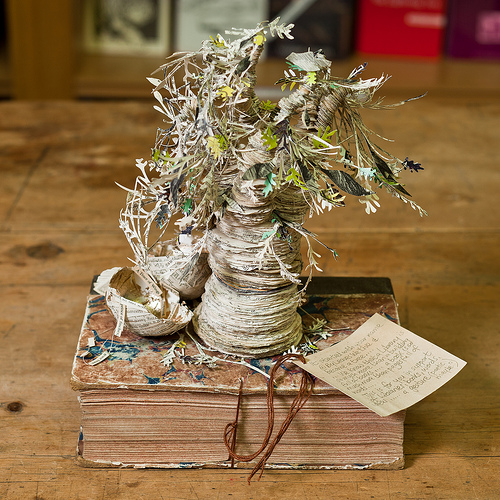 Go here to read the whole story of the 7 (and counting) beautiful sculptures which have been left so far. Lots of pictures like this:
As for books for the purposes of reading, I've just finished "Faithful Place" by Tana French, a cold-case murder mystery set in Dublin. I wasn't quite convinced by French's first two books – they were wonderfully evocative, but the characters and plots didn't quite hold together and the endings seemed slightly slipshod. This book, however, is a cracker – finely drawn characters, a well crafted (if slightly forseeable plot) and the atmosphere of family life in the rougher parts of Dublin comes through magnificently.
As a Who geek, I also enjoyed Michael Moorcock's "The Coming of the Terraphiles". Moorcock dumps the Doctor and Amy Pond into the middle of a Woosterian romp of stolen hats and terrifying mothers-in-law, slings in a few characters from his own books and then packs the whole lot off to the center of the galaxy to play mutant games of not-quite-cricket for a prize that might hold the secret to saving the entire universe. Moorcock never quite captures the characters of the Doctor and Amy as played by Gillan and Smith, but the entire thing is such a massive romp it doesn't really matter.
Finally, I'd recommend "Finch" by Jeff Vandermeer. Vandermeer's books are always delightfully weird evocations of unexplained alien worlds. Here his usual city of Ambergris has been taken over by creatures of living fungus whose motivations are unknown, and a search for a killer becomes an excuse for Vandermeer to explore humanity and its reaction to the loss of everything that it held dear. Great fun and genuinely mysterious.
What else should I be reading, kiddies?