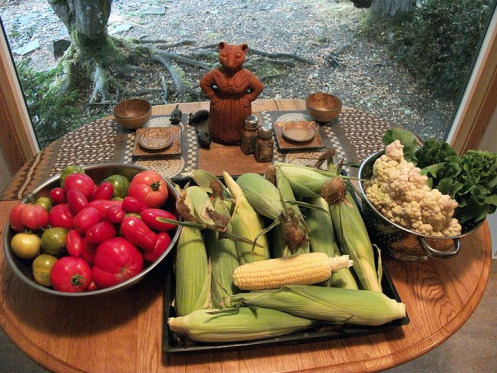 From commentor Marvel:
The summer garden's finally starting to wind down out back: picked the last of our corn & cauliflower this AM and have only about a quarter as many tomatoes out there as we started with. No rest for the wicked, though: the apples will want picking, cooking and canning by the end of the week. THEN we'll rest. We must!
__
These are just three pix I took the other morning (9/27).
__
Picked: Some days I pretty much know how my morning will go….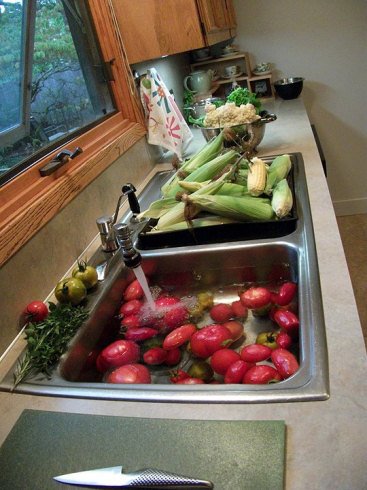 Prepped: It's an easy-going way to spend a quiet morning. Jack's out back digging up the spent corn plants — they were a mighty lovely bunch. We'll grow corn again next year, u-bet.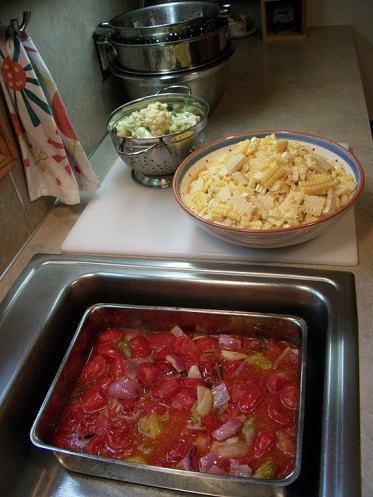 Pooped: The score? Shucked, blanched and shelled 20 ears for the freezer; roasted ten pounds of tomatoes for canning tomorrow; wrestled one monster cauliflower to the ground.
***********
Finally got a couple lovely autumn days here, after ten days of on-and-off mizzle with periodic downpours, which negated my feeble efforts to combat the tomato blight. Picked a big mostly-green bowl of what will probably be the last of this year's full-sized tomatoes, because there's a frost advisory tonight — absolutely on schedule, unlike every other weather-related phenomenon this screwed-up year. Still got three or four cherry tomato plants setting fruit, and since the temp's supposed to bounce back into the 80s over the weekend, I'm hoping for another couple weeks of vine-ripening.
__
How are your gardens doing, now that it's October?