Sorry I dropped off the face of the earth again, but it is homecoming weekend here and I had a bunch of commitments to deal with, and lots of people staying at my house, and fraternity stuff, so I just said to hell with it and let the other 85 people writing here take over. Made a killer Italian dinner, some sexy baguettes from scratch, and then there was drinking. This happened to one of my brothers: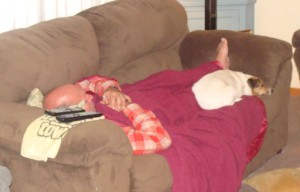 I remember my first beer. Also, some of you have been pining for Rosie pics, so here you go. She is quite the life of the party these days, just so happy and wanting to be with anyone.
I'll leave you with this:
I'll probably be kind of awol again tomorrow because I have 40 people coming for a BBQ and about 15 lbs of ground beef, 10 lbs of chicken, and more kielbasa and hot dogs than I know what the fuck to do with.