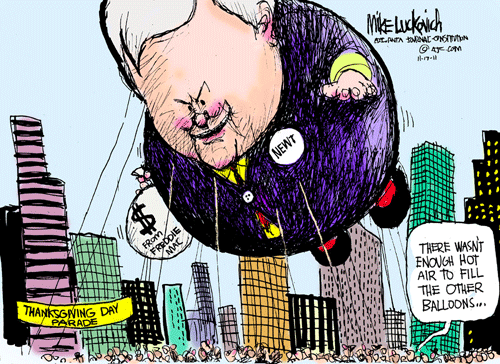 (Mike Luckovich via GoComics.com)
__
So, it appears that Newt Gingrich has been taking millions of dollars from the health-care industry in support of "Obamacare"-type insurance proposals:
A think tank founded by GOP presidential candidate Newt Gingrich collected at least $37 million over the past eight years from major health-care companies and industry groups, offering special access to the former House speaker and other perks, according to records and interviews.
__
The Center for Health Transformation, which opened in 2003, brought in dues of as much as $200,000 per year from insurers and other health-care firms, offering some of them "access to Newt Gingrich" and "direct Newt interaction," according to promotional materials. The biggest funders, including firms such as AstraZeneca, Blue Cross Blue Shield and Novo Nordisk, were also eligible to receive discounts on "products and workshops" from other Gingrich groups.
__
The health center advocated, among other things, requiring that "anyone who earns more than $50,000 a year must purchase health insurance or post a bond," a type of insurance mandate that has since become anathema to conservatives.
__
The group also pushed proposals to build centralized electronic medical records and use such data to research treatment effectiveness, both central features of President Obama's health-care reforms…
And he is not going to give back those "consulting historian" fees from Freddie Mac:
Republican presidential candidate Newt Gingrich, surging in recent polls, tonight distanced himself from payments that his consulting firm collected from Freddie Mac, which he has blasted on the campaign trail for its role in the national housing crisis.
__
"I didn't take it," Gingrich said after an event at Harvard University when asked about reports that he collected nearly $2 million from the agency.
__
He said the funds were paid to the Gingrich Group, his health care consulting firm, and demurred when asked if he would return the money to Freddie Mac, as he has called on President Obama to do. Obama has received campaign contributions from the agency.
__
"[The funds] weren't paid to me when I was a candidate," Gingrich said.
__
He said clients approached the group and its affiliate, The Center for Health Transformation, for advice from someone well-schooled in the ways of Washington, adding that he is sometimes referred to in news reports as the "smartest guy in the room." He later said he was being "tongue-in-cheek" with that remark…
Also, he's back on his mid-1990s hobbyhorse about greedy unions and their lazy-underclass-enabling child labor laws:
"You go out and talk to people, as I do, you go out and talk to people who are really successful in one generation," he continued. "They all started their first job between nine and 14 years of age. They all were either selling newspapers, going door to door, they were doing something, they were washing cars."
I'm expecting Newt to revive his "Children from low-income families should be put into orphanages where they'll learn proper work habits and decent social behavior" proposal by next Tuesday, so that Limbaugh can funnel it through the Wingnut Welfare Wurlitzer in time to spoil more family Thanksgiving dinners.
Why haven't the GOP moneymasters muzzled Gingrich, if they're actually interested in winning the White House in 2012? Jon Chait at NYMag's Daily Intel runs the odds:

… At one level, it seems completely insane to not nominate Romney. Yet there is a logic to it. The worst thing that can happen to you as a party is for your president to compromise away your agenda, and party unity is far easier to organize in the opposition. The Republicans can block any plan to put a price on carbon emissions by President Obama. All the purists and all the party loyalists will vote as a block to stop it.
__
But suppose President Romney decides he wants to tackle cap and trade? He'll split the party between purists, who will vote against Romney's climate plan, and loyalists, who would be happy to vote for a Romney-endorsed plan, which they would oppose if put forward by Obama. And then support for cap and trade will be marginalized as a position, just as opposing any Medicare drug benefit was marginalized after George W. Bush supported it. In the long run, keeping your party together is more important than winning. You can always come back from a loss, but you can't come back from apostasy. Another way to put that is, as a liberal, I'd much rather have a Republican president dedicated to a flat tax than a Democratic president dedicated to a flat tax.
__
Now, the tricky thing with Gingrich is that he is not exactly a perfect vehicle for right-wing purity. But if you view Gingrich's positions as a graph, with erratic spikes to the left (support cap and trade!) and to the right (fight the secular socialist machine!), the general thrust is still one of maximal partisan conflict. If I'm a Republican, I worry a lot less about Gingrich selling me out than Romney selling me out.
The calculus is that Romney has all the money he needs — an estimated quarter-trillion private fortune — so once Willard's obtained the one thing his money has not yet been able to buy, he can't be trusted to invariably choose what's best for the Party over what's best for his personal political career (as in "Romneybamacare"). But Gingrich is an established whore, with no private assets or abilities other than shilling for his Party masters, so the Koch brothers can feel secure that Newt will do as he's paid, however degrading or undignified their requests.