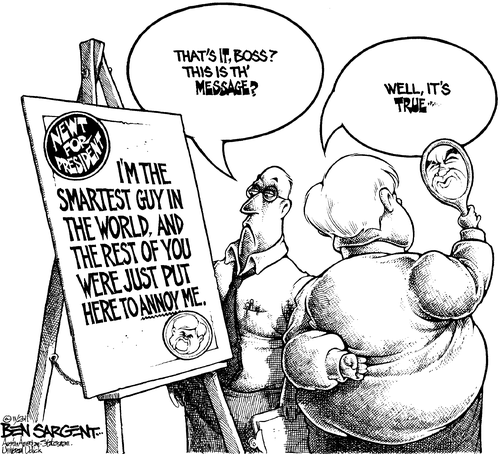 (Ben Sargent via GoComics.com)
__
To rational observers of his long history of self-destructive bloviation and toxic narcissism, Newton Leroy Gingrich's newfound "frontrunner" status in the GOP presidential race is a major mystery. The Washington Post, company paper for the political industry, dutifuly untangles how "Newt Gingrich Inc…. went from political flameout to fortune", detailing the recent career of a professional con artist whose main distinctions from Sarah Palin are a larger vocabulary and a fatter rolodex. None of the repellant details collected in John H. Richardson's August 2010 Esquire profile have become any less squirm-inducing. And yet, Triumphant Newt is the media's, and perhaps even the GOP primary voter's, candidate of the hour.
__
It may just be the political version of Wall Street's "greater fool" theory. Greg Sargent was deliciously sarcastic about Politico's breathless claim that "It's nearly impossible to overstate how much Newt Gingrich's resurgence can be traced to how strongly Republicans think he'd fare in mano-a-mano debates against President Obama":
… Newt's credentials as an intellectual heavyweight are entirely unearned, and… GOPers nominate a megalomaniac like Newt at their peril.
__
Newt, however, is undaunted. Indeed, as he told us himself the other day: "I have more substance than any candidate in modern history." If Jonathan Martin's reporting is accurate, there are a lot of Republican voters out there who are prepared to believe him.
Frank Rich, on Rachel Maddow via NYMag, blames it on Rupert Murdoch: "… I think most of all it's a practical decision.. throughout the political world, people really, really don't like Mitt Romney… there's something plastic about Romney, something off-putting. And fake. And I think the Murdoch empire wants someone who could win." (Video clip at the link. Why does Rupert Murdoch, and/or his henchman Roger Ailes, hate America?)

Mr. Gingrich himself is serenely ready for his closeup. Last weekend — when not advocating "more aggressive" policies towards marijuana users, the Cuban government, Medicare, and Social Security — Newt was magisterial in an interview with Chris Moody for Yahoo:
Have you learned anything about yourself that you didn't know or that surprised you now that you're running for president?
__
I may be more capable of calm discipline than I would have guessed. Watch the way in which I am methodically not getting engaged in a fight with my friends.
__
Is it hard to resist the temptation?
__
It's getting easier. The more often I do it, the easier it gets. It's easier to not say anything the next time. I'm a natural debater. I've spent my whole career debating…
__
Do you think that if you're nominated you'll really get President Obama to agree to your challenge of holding several three-hour Lincoln-Douglass style debates?
__
Yeah, I do. I think he'll look like a fool if he doesn't. How does a guy announce in Springfield, quoting Lincoln? I want to give him a chance to live up to his announcement.
Well, at least those of us in the Reality-Based Community — i.e., Democrats — can take solace in knowing that this is, no lie, Good News for President Obama. Gingrich will no more win a presidential campaign in 2012 than I will win next year's Miss Universe contest. But his newfound polling popularity may enable Newt to fatally damage Willard. Per Charlie Pierce:
… If Newt Gingrich really thinks he can win, then Newt Gingrich will do absolutely anything to accomplish that. He has no conscience in these matters, and he has no soul to speak of. He believes that the rules governing ordinary mortals in matters like public prevarication and gross public deceit do not apply to him, because he was blessed at birth to be the "definer of the rules of civilization." (There is actual court testimony to this effect, by the way.) If he really is ahead of you in Iowa, Willard, and if he's running even in New Hampshire, then where exactly do you go thereafter? Newt could have been elected in South Carolina in 1863, when it wasn't even really a part of the country. Now, the GOP in that state is the last remaining redoubt of all the changes he rang in nice polite Republicanism in the 1990's. That's the home office. You going to beat him in a state that thinks Jim DeMint is a giant of American politics? That leaves Florida, which is a demographic mess, and where Newt is now beating you in the polls. You might squeak one out down there, but you're going to be bloodied up going forward.
__
This is no longer a campaign. It is Newt Gingrich's last chance to define himself in history as the grandiose figure he sees when he looks in the mirror. It's not a book tour any more, or an elaborate form of negotiation aimed at jacking up his lecture fees. If he thinks he can win, Newt Gingrich is going to look at this campaign now as a grand opportunity to justify himself as a man of historical moment, a kind of supra-national figure whose like we will not see again. If anyone thinks he's likely to abandon that great quest just because he's fundamentally unprincipled, and because the image itself is a tinpot fraud, they're fooling themselves. To paraphrase Groucho Marx, Newt is fighting for his honor, which is probably more than anyone else has ever done for it.