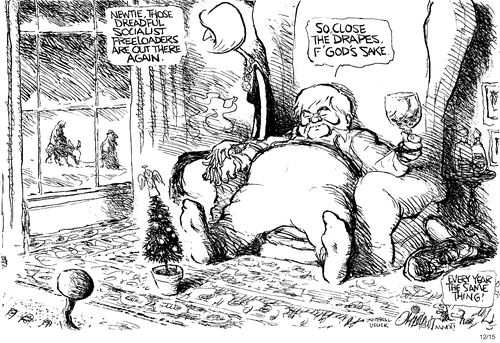 (Pat Oliphant via GoComics.com)
Ever the zealous over-achiever, in his Rolling Stone holiday post, Taibbi attempts to play all four of Dickens' ghosts:
… Asked if he were willing to pay more taxes in a Nov. 30 interview with Bloomberg Television, Blackstone Group LP CEO Stephen Schwarzman spoke about lower-income U.S. families who pay no income tax.
__
"You have to have skin in the game," said Schwarzman, 64. "I'm not saying how much people should do. But we should all be part of the system."

… This incredible statement gets right to the heart of why these people suck.
__
[I]t seems to me that if you're broke enough that you're not paying any income tax, you've got nothing but skin in the game. You've got it all riding on how well America works…
__
People like Dimon, and Schwarzman, and John Paulson, and all of the rest of them who think the "imbeciles" on the streets are simply full of reasonless class anger, they don't get it. Nobody hates them for being successful. And not that this needs repeating, but nobody even minds that they are rich.
__
What makes people furious is that they have stopped being citizens.
__
Most of us 99-percenters couldn't even let our dogs leave a dump on the sidewalk without feeling ashamed before our neighbors. It's called having a conscience: even though there are plenty of things most of us could get away with doing, we just don't do them, because, well, we live here. Most of us wouldn't take a million dollars to swindle the local school system, or put our next door neighbors out on the street with a robosigned foreclosure, or steal the life's savings of some old pensioner down the block by selling him a bunch of worthless securities.
__
But our Too-Big-To-Fail banks unhesitatingly take billions in bailout money and then turn right around and finance the export of jobs to new locations in China and India. They defraud the pension funds of state workers into buying billions of their crap mortgage assets. They take zero-interest loans from the state and then lend that same money back to us at interest. Or, like Chase, they bribe the politicians serving countries and states and cities and even school boards to take on crippling debt deals.
__
Nobody with real skin in the game, who had any kind of stake in our collective future, would do any of those things. Or, if a person did do those things, you'd at least expect him to have enough shame not to whine to a Bloomberg reporter when the rest of us complained about it.
Use this as a trading chip with your newly Libertarian college-freshman relatives; hey, it's Rolling Stone, they were advocating marijuana legalisation even before Dr. Ron spawned the future 'Aquabuddah'!