So apparently we had our tenth anniversary on the blog a week ago, and I missed it. This shit show started ten years ago on the 2nd of January, 2002. Here is the inaugural post:
Since nothing in my life is easy, I doubt this will work the first time I try it. If it does work, I will be moderately elated.
Things pretty clearly have gone downhill since day one. Ten years, I guess, is kind of something in blog years, and if nothing else, we lasted ten times as long as pets.com. If I had to look back on things, probably the best decision I made was bringing on Tim F. as my first co-blogger. He was such a good commenter and even-keeled poster that I was encouraged to bring on lots of new faces, all promoted from the comments. Letting someone new have control and access was hard the first time, but Tim made it super easy. The worst decision? Just pick any post from 2002-2006.
So, yay us! Hit the the tip jar, or just make rude comments in the comments section, because hopefully we'll be around for another ten. If we don't, it's probably because I will be dead. Regardless, it's been fun, and no matter how emo I sound on any given day, I really do love this website, all the front-pagers past and present, and all the people who come by to tell me we are full of shit or the greatest thing ever. I like the fact that with limited exceptions, people are free to say whatever the hell they want. That's how it is in my living room, and that is how it will always be on this little hole in the internet.
*** Update ***
BTW- if anything demonstrates what a shoddy enterprise this is, it is the fact that I only remembered the anniversary because you all pointed it out. If I had any advice for anyone starting out blogging, I would say have a comments section. Otherwise, you don't have a blog, you have some vanity website, and really, no one gives a shit about you. Really, they don't.
*** Update #2 ***
For posterity, no anniversary post would be complete without a picture of Tunch in his natural environment: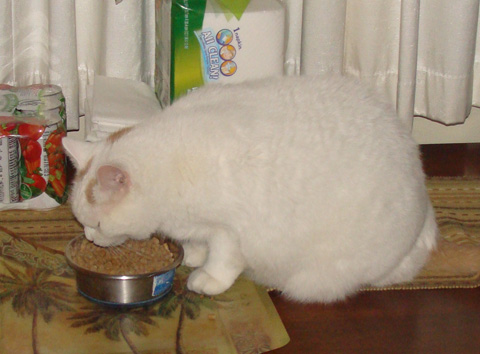 That's the dining room table he is on, because if I do not elevate his food, the hounds get it. Plus, I think jumping up there is the only exercise he gets.