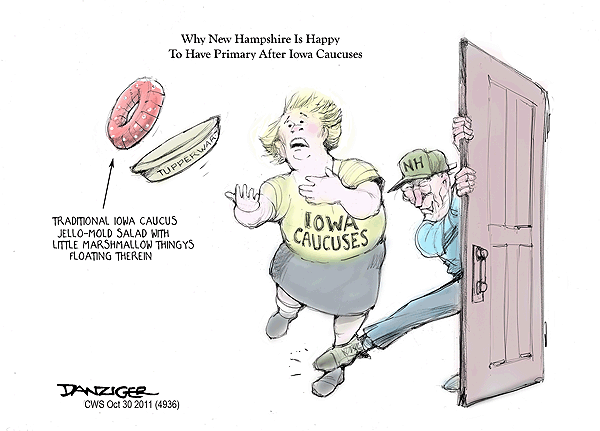 (Jeff "Proud Vermonter" Danziger's website)
__
According to the NH Union-Leader:
Major broadcast networks declared Romney the winner as soon as all polls closed at 8 p.m…
__
As returns poured in, Romney had 39 percent of the vote with nearly 90 percent of the voting precincts reporting…
__
… Paul was at 23 percent and Huntsman at 17 percent, while former Speaker of the House Newt Gingrich and former Pennsylvania Sen. Rick Santorum split the hard-line conservative vote, with 9 percent each.
__
Texas Gov. Rick Perry, who did not campaign in New Hampshire in recent months, was at 1 percent. Perry said the battle to become the conservative alternative to Romney was now "wide open."
__
An exultant Paul sarcastically thanked the New Hampshire Union Leader "for not endorsing me," and said, "Freedom is popular."….
And the clown caravan moves onward to the state once labelled "Too small for a republic, and too large for an insane asylum"…