Have you ever looked at your pet's nose? I mean really, really close. It may be my favorite part of the piglets, because it's just so delicate and refined, and the patterns in the hairs/fur are so amazing. I spend hours sitting and petting Tunch and just looking at his perfect little nose and the crazy design of all the little hairs and whiskers: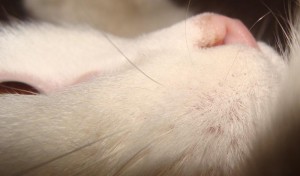 The hairs are just so fine and almost purposely placed. Everything about it is perfect and amazing, and while staring at it, you can briefly forget about the fact he sheds all over the god damned house, shits in a box you need to clean daily, sits on your chest and chirps when you don't want to get out of bed, and harasses you multiple times throughout the day, weaving in and out of your legs, whether you are sitting at the computer or trying to walk down the damned stairs.
But if you look just close enough in the few seconds he is sitting still, it's pretty beautiful, and worth it all. And don't get me started on wet dog noses, which I think are the greatest things on earth. A wet dog nose is a happy, healthy dog. And usually in my armpit at 6 am.