What you saw:
What they saw: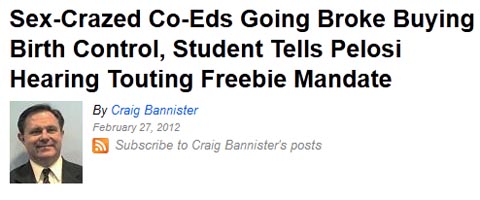 C'mon, wingnuts, quit nancying around and just call them sluts. Remember the good old days when the Republicans were all up in arms about outsiders getting in between patients and their doctors?
At any rate, the reason Santorum and the rest of the clown car parade in the GOP are still hammering home on contraceptives, despite the fact that the majority of the nation thinks they look crazy, is because it resonates with the base. They love this stuff. And what the base wants, the GOP "leaders" gives them.
And yes, "SEX CRAZED COEDS GOING BROKE BUYING BIRTH CONTROL" does sound like a movie on Cinemax at 1 am on Saturday.