Do you, sir, agree or repudiate this statement by BYU religion professor Randy Bott:
"God has always been discriminatory."
(From  a Washington Post piece by Jason Horowitz. via Max Perry Mueller in Slate)
Well, Mr. Romney? Is that your view? The divinity divines consequential differences amongst the sons and daughters of Adam and Eve?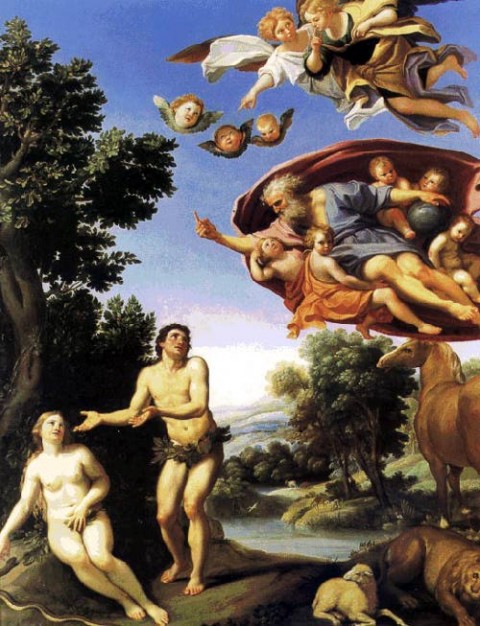 Further: do you, Mr. Romney, agree or repudiate this view:
….The Mormon Church's own longstanding priesthood ban was, according to Bott, not racist. Rather, it was a "blessing." Prior to 1978, blacks weren't spiritually mature enough to be ordained with such authority. Bott compared blacks to "a young child prematurely asking for the keys to her father's car," and told Horowitz that misusing priesthood authority—like crashing dad's Oldsmobile—could have put blacks "in the lowest rungs of hell," reserved for serial killers, child rapists, world-class tyrants, and "people who abuse their priesthood powers."
Take your time.
Image: Domenichino, Adam and Eve,  between 1625 and 1623.
[OT PS: am I the only one who finds those winged decapitated kid's heads to be supremely creepy?]