Ta-Nehisi Coates brings
the hammer of truth
down on the papier maché skulls of the
nil nisi bonum
crowd singing Andrew Breitbart's private excellences.
I have heard it said by some fellow liberals that Breitbart was in fact a good person, that his public persona was not the same as his private. This kind of praise is so broadly true of most controversial public figures as to be meaningless. And it is irrelevant. Breitbart may well have been an excellent father and a great friend but that is not why we are talking about him. We are noting his death because of the impact he had on our politics and our conversation. It must be said that that impact was for the worse. Any talk of his private life, is an attempt to change the subject and avoid discomfiting truths.
Let me divert for a moment to the frame through which I see such matters.
I am, as you probably know by now, an atheist who remains committed to Jewish identity by education, culture, and deeply flawed attempts to live by the creed of Micah.  The key to that commitment comes from the teaching I was given from very early on about the idea of religion made real by deeds, not faith.  In the congregation I attend, on Yom Kippur — the Day of Atonement — it is the custom before services begin to ask forgiveness for any wrong done to anyone amongst us.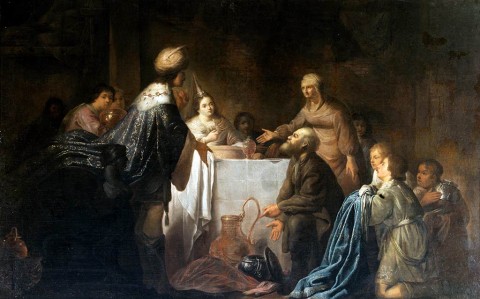 The service itself provides atonement for our deeds; forgiveness is predicated on an actual act in this world, a public one, a transaction in which both parties to that which may have caused harm engage with each other.  More generally, the broad obligation of my tradition, as it was taught to me, is tikkun olam — the duty to "heal the world."  This world, and not the world to come.
Hence, what Ta-Nehisi says.  We do not need to rejoice at Breitbart's death.  But honoring this world requires that we assess his life clearly, now more than ever.  Ta-Nehisi brings that life into sharp focus looking just at the viciousness of Breitbart's attack on Shirley Sherrod.
Not by his heart, but by his deeds shall you know him.
PS:
Bonus Ta-Nehisi on t
he moral crater that is Rush Limbaugh
and –my interpolation — the GOP that continues to embrace him.  Here, TNC limns Limbaugh's grotesque attack on Sandra Fluke:
It is worth calling this what is is–the normalization of cruelty–and asserting, no matter how redundant, that is wrong and evidence of the lowest aspects of humanity.
Ta-Nehisi is just right, IMHO.  If so, then the next step in the chain of reasoning follows: those who do not explicitly repudiate Limbaugh's remarks — I'm looking at you, John Boehner — share in both the normalization of cruelty and in solidarity with "the lowest aspects of humanity."
Hey, GOP:  you broke it; you bought it.