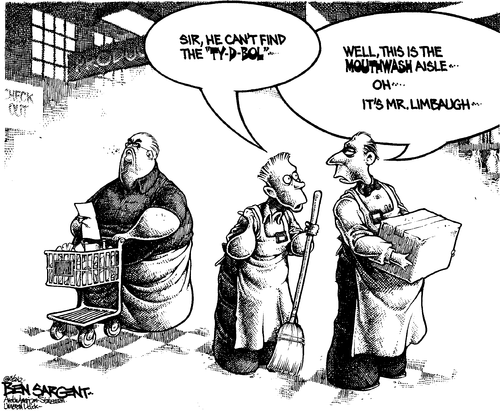 (Ben Sargent via GoComics.com)
__
Charlie Pierce at Esquire reviews the next politics-as-horserace media distraction:
When John Heilemann, and the utterly inexcusable Mark Halperin, published Game Change, their gossipy account of the campaign four years ago, almost every page fairly dripped with flop sweat. Not from the authors, but from the dozens of professional political types, anonymous and not, who saw in the book a chance to rehabilitate their own reputations from the fools, thieves, and mountebanks for whom they'd worked. (And who, it should never be forgotten, they spent two years trying to foist on the rest of us as national leaders.) There was backstabbing befitting the court of a Borgia pope. There was resumé-polishing and brown-nosing that would have embarrassed the Haskell family down four generations. (The most distasteful was the unpardonable slandering of Elizabeth Edwards, something that the authors won't live down for a while, either.) Generally, you'd have to wait until the Ides of March to watch a group of people sell out their boss that badly. To barber a phrase from the great Dan Jenkins, the book was further proof, as if we needed any, that, if you put 100 political consultants in a barrel and rolled it down a hill, there'd always be a son of a bitch on top.
__
Now, the people at HBO, and the writer/director behind Recount, that network's superb retelling of the machinations in Florida in the aftermath of the 2000 election, have adapted one long portion of that book for a movie that debuts this Saturday, in what can fairly be called The Last Temptation of Sarah Palin. The movie is completely faithful to the spirit of the book in that it shows how some generally sensible people worked night and day to put a pretty obvious dimwit one heartbeat away from the nuclear codes and now feel really, really bad about it. It's basically the story of Steve Schmidt, the political pro who convinced John McCain that his campaign needed a "game-changing" moment, and that picking Palin as a running mate was what he was looking for. The great arc of the movie shows Woody Harrelson's Schmidt gradually realizing the catastrophe he has unleashed upon the campaign and, possibly, upon the country itself. It's Frankenstein with BlackBerries. By the end of it, you half-expect to see Schmidt, who now is one of the best things about MSNBC's political coverage, chasing Palin across the Arctic pack ice with dogs baying in the distance…
Also at Esquire, Tom Junod catches Neal Boortz limbo-ing lower than Limbaugh.
Later tonight: Thursday Recipe Swap, featuring JeffreyW's PIZZA.
What other non-disgusting topics are on the agenda this evening?