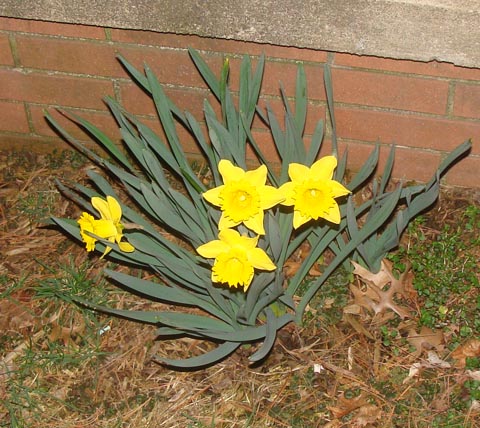 Spring is here. My daffodils are out, it was 75 degrees all day long and I left the back door open all day and had the windows open to air out the house. THANK FSM. I'm one of those weird people who loves winter and loves the snow, but also gets depressed with the lack of sunshine. The last couple of days, though, it has been so nice waking up at 7 am because the critters are restless and the sun is coming through the window. The birds are back and making a ruckus, and I just feel better. After dinner tonight and after walking the girls, I went for a drive through the country, and it was so nice driving along, looking at a red sky. The honey wagons were out today, and every now and then I would drive by a farm and get that smell of manure in the fields, and I got to say, I love the smell. I know I come across as a bitter SOB a lot, but I am a grower and nurturer at heart. This is the best time of year.
I was chatting with Chris Mooney, who wrote the Republican War on Science and has a new book coming out called the Republican Brain, and mentioned I had to get out of the big city and love living in my town of 300. He laughed, because he is from New Orleans and now lives in DC, because of what I thought of as the big city was a town of 30k (closer to 60 when school is in session) and doesn't really sync with his concept of "big city." If I had the money and could get high speed internet, I would be living in a town of one somewhere in the middle of nowhere with nothing but me, the girls, Tunch, and nothing else. My dream house is in the middle of a clearing in the middle of the woods, built into the side of a hill. The whole house would be underground with windows in a 360 degree perimeter. Water would be from a well, solar panels would be present, and I would cool and heat the house with a buried heating and cooling system. There'd be enough clearing for sunlight for the house and a nice garden and room for the girls to run, and everything else would be woods. I think 100 acres would be enough to keep me from having to deal with other humans. I'd like enough room for some chickens and maybe some recreational animals, like a goat and a pig and maybe a cow or two (because here is simply no chance in hell I'd ever be able to kill them and eat them. That isn't in my DNA.).
I guess I need to play the lottery. But for now, I'm just happy that the sun is out, the animals are roaming the yard at will and happy, and the air is crisp and refreshing. I'm planning my raised beds for my garden and my rain barrels, I'm stoked for spring, and I can put away my sun lamp because winter is over. Plus, I get to spend the next couple of weeks thinking about what to plant this year and dreaming of fresh tomatoes. Also, ramps are right around the corner.
It's a good time to be alive, but then again, it always is compared to the alternative.