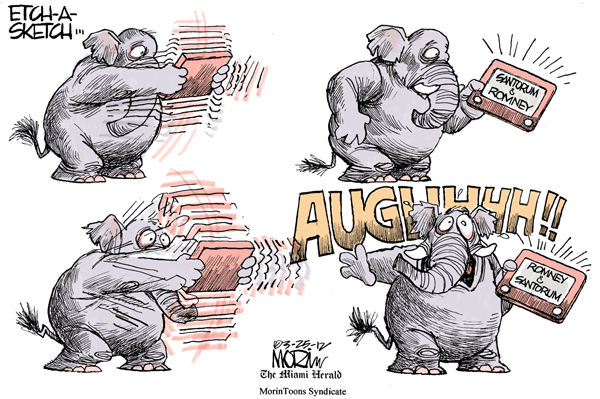 (Jim Morin via GoComics.com)
As generally predicted, Rick "Sanctimonious" Santorum won the Louisiana primary last night. Per Paul Constant, at The Stranger:
With 98% of the vote in, it looks like this: Santorum wins with 49% of the vote. Romney is second, with 27%, Gingrich has 16%, and Ron Paul's got 6% of the vote. With the 175,013 votes cast, we're already seeing a much higher turnout than in 2008, when only 156,101 Republicans voted… Romney's 47,495 votes is certainly an improvement over last time around, when he won only 10,222 votes. Still, I think you can make a case that when Santorum wins a state, the turnout is generally better than 2008, and Romney's wins happen when there are fewer voters than the last time around…
__
The Caucus is saying, and rightly so, that this is a two-man race, and that Gingrich and Paul are simply wasting their money at this point. But Santorum is still basically pissing in the wind, too. The next race is Wisconsin, where Romney is up 13 points in the last poll. Santorum's only hope in Wisconsin is that this Etch-A-Sketch thing lingers a while, and that his efforts to defend Governor Scott Walker in the recall election will make an impression on Wisconsin Republicans. Even then, after Wisconsin, the primaries will turn largely to the Northeast, where Romney dominates. I expect the Republican establishment to start pushing hard on Santorum to get out after Wisconsin unless he can turn this convincing Louisiana win into something a little more sustainable…
And yet we've still got maybe two dozen more primaries! I prefer Gail Collins' argument:
… We have heard a lot of complaints about how long and dreary these presidential contests have been, but they all seem totally wrongheaded.
__
The primaries have been great for the economy. Dimwitted billionaires are dumping money they don't need into the campaigns of people who can't win, providing much-needed jobs for ad-writers, poll-takers and yard-sign manufacturers.
__
Do you remember, at the depth of the recession, when Keynesians kept saying that we could jump-start the recovery by just paying a whole bunch of people to dig holes and fill them back in? This is exactly the same thing! Keep going, Republicans!
Apart from digging holes, what's on the agenda for what remains of the weekend?