I quite like Good Friday. The chants at the morning service at the Convent of St. Fidelis of Sigmaringen down the road are always so lovely. Although I'm Catholic, and therefore not particularly religious, I do find the stark dignity of that empty tabernacle quite stirring.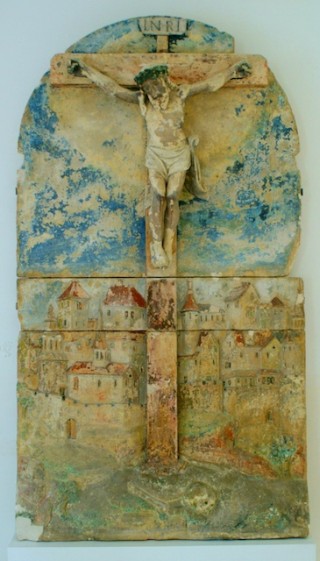 Neverthless, we did get our praying out of the way pretty quickly this morning, so we could get on with the important business of gossip, showing off our new hats and handing round pictures of the grandkiddies, interspersed with the odd bit of actual business so that we didn't have to deal with it at morning tea. There may well have been some man or another up the front of the chapel, wearing a dress and yammering on, but none of us was paying much attention except during the hymns.
This morning we worked out who was bringing what to the next bring-and-buy – I'm doing Cherry Bakewells and a caraway seed cake – set the date for the next Convent Fair, and managed to find a nanny job for poor Mary McKenzie.
While she was on holiday in New York a few months ago, she got rather too excited in a nightclub toilet with one of the boys from Jersey Shore. She's not sure which one. All she can remember is muscles, big hair and a cloud of Axe body spray which really isn't much help. Now she needs the work to pay for a nice new pram and some DNA tests.
We aren't missing out on much by not listening during mass, as we do have a rather uninspiring roster of priests thrown our way each week.
Father Seamus, who I seem to recall lead the service today, is a nice and pretty young man. Unfortunately he's frightfully stupid and exceptionally fond of the Virgin Mary, if you get my drift. He can speak about her pure, forever untouched femininity for hours. The poor dear will come crashing out in a few years and be much more entertaining, but for the moment he's a dreadful bore.
Father Flarety only ever talks about birth control, homosexuality or and the environment (he's against all of them), but in the heat of his oratory the poor sot usually forgets which of them he is denouncing. It doesn't seem to make much difference anyway. He also has a tendency to wander off during communion and not come back, which makes for a nice early mark. Last Sunday he got his hip flask mixed up with the communion wine. The blood of Christ had a kick to it that day, let me tell you. We had to take old Sister Luigi out into the vestry and fan her for a while.
And Father MacDonald is now so old and so wizened that he can't be seen over the altar or the lectern, even when standing on a milk crate, so no one has any idea what he talks about.
Anyway, I really just wanted to wish you all a happy non-denominational Easter/Passover for this weekend and share with you a personal email I received from Marcus Bachmann reminding me that it is Michele's birthday today. How lovely that the day of her birth falls on Good Friday this year, the day when Jesus died for us, the day when the tabernacle is as cold and dark and barren and empty as Michele's heart.
Dear Sarah,

This Friday, April 6, is a very special day in the Bachmann household – it is Michele's 56th birthday!

This past year has flown by, and Michele has spent the year working incredibly hard fighting day in and day out across this country for the conservative values we hold near and dear. In addition to being the voice in Washington we always know we can count on to tell the truth, Michele has worked extremely hard as a wife, mother and conservative activist.

I really want this birthday to be special for Michele, but I know that what would mean the most to her is if she was able to hear from you.

I've put together a special online birthday card for Michele and I hope you will follow this link to sign the card. On Friday, I will compile the messages to show her that people from every corner of the country appreciate the hard work she does.

Michele is facing a formidable election this year, and the Democrats would love nothing more than to see Michele be defeated. Please sign the card to show you stand with Michele, and afterwards you'll be given the opportunity to make a special donation to show Michele just how much you support her work.

Please consider making a $56 – one dollar per year, or even $112 – two dollars per year, contribution. But, if you can't afford to give that much, a gift of $10 or even $25 is greatly appreciated. Every donation received is one step closer to ensuring Michele's campaign is victorious this fall.

On behalf of the entire Bachmann family, I want to personally thank you for your continued support of Michele. It is not easy to stand up to the liberals and mainstream media who attack her and our values, but I know that your support means the world to her.

Michele and I are blessed to have your friendship.

Sincerely,
Marcus Bachmann

P.S. Not much time remains until Michele's birthday, and I need your help to ensure she has a great day. Please sign the birthday card for Michele and afterwards make a donation to her campaign. Thanks, Marcus.
I hope that Marcus has found a nice present for her. Perhaps a stepladder and some nails so she can climb on up there next to Jesus and show him how a martyr really dies. I must send her a basket of muffins.
I will leave you with two things to properly sweeten your day after Marcus' dish of saccharine and suffering.
First this song, which I have linked to before, but which I play for myself almost every day. It's dedicated to the Senegal national football team, the Lions of Teranga, by a Swedish girl of Senegalese ancestry called Mary N'diaye. It's so joyous, it has a great beat, she has such a lovely voice and the video has awkward straight boy dancing, so it always brings a smile to my face.
Secondly, if you will indulge me, I'm going to link to one of my old stories, which I reread the other day and which I think deserves another whirl. It cheered me up anyway. It involves Bill O'Donoghue, an adorable baby, cake, lesbians, graphic vengeance and a rather sweet ending.
Happy Easter weekend to all. I hope you have a pleasant weekend and that you find an opportunity, on this Good Friday, to reflect upon the importance of sacrifice and self-denial.
Now I'm off to buy a cheeseburger and a quart of gin.