The US ranks second — to mighty Luxembourg! — in per-capita meat consumption, per a review of 2007 data. (h/t Jag Bhalla)
I actually find the numbers both surreal and plausible.  By these numbers, Americans in 2007 ate about 275 pounds of meat and poultry each — 125.4 kg, to be precise — or about 3/4 of a pound per day.
Update:  per commenter Barry below, this particular chart has some real head scratchers in it — see this comment thread at Crooked Timber for some of the details.  Other numbers for the US seem to hover between 200 and 230 pounds per capita per year, depending on which source you trust, or on the order of 2/3 of a pound per day.  The underlying implications remain basically the same.)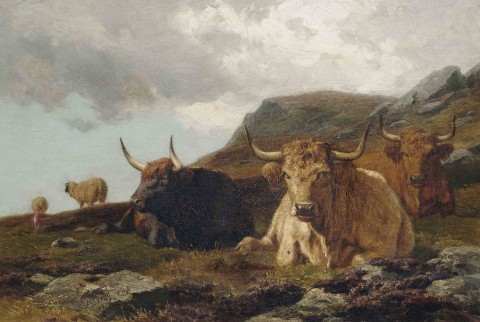 Right there, friends, is the nexus of all kinds of interesting issues, from climate change to health care costs.
Masticate among yourselves (open thread).
Image:  Alfred Grey, Highland Cattle, 1887