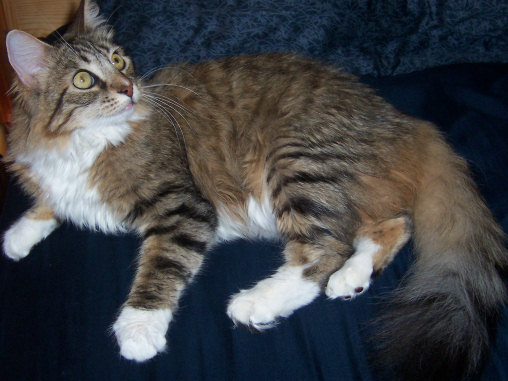 __
From commentor Nethead Jay:
I'm writing with a plea for help to the pet lovers in the BJ community, on behalf of a very good friend who also reads and occasionally comments here. My friend lives in Berkeley in the Bay Area and has 3 cats… [including] Hypatia, tiny and adorable, but unfortunately also a kitty with serious health issues. This is about her.

Hypatia has always had chronic problems with her lower spine, which severely affects her overall health. She's had 2 surgeries for bladder crystals, one in 2007 and another in 2010. Her right back leg doesn't function properly, which causes her to have difficulty with mobility, bowel movements and leaking urine while sleeping or just resting. Due to this particular pathology, she's also prone to constipation and urinary tract infections. Over the last couple of years especially, this has led to several health crises. The problem area is at least one nerve locus at the base of her spine. The mobility issues extend to her having more and more difficulty grooming herself and being groomed. It now takes two people to get her quite clean and she's beginning to require that level of attention more and more frequently.

My friend has done everything she can to get Hypatia the medical help necessary to get back to good health. However, she has been mostly unemployed for the past three years, except for the rare temp assignments and occasional paid studies. I've sent her as much money as I've been able to many times (through PayPal) but my situation is somewhat tight too. And I know that several times she's had to balance her beloved kitty's health against being able to afford rent and basic living expenses.

Currently Hypatia is on the following medications (numbers are cost per month):
Amitriptyline: 65.10
Proin: 51.00
Methioform: 25.34
Prednisone: 19.00
Lactulose: 17.50

Exams are $56.00, the occasional enema $79.00, she's just had both 2 days ago. It seems likely that the enemas will become increasingly necessary. Urinalysis is $69.00 but the culture for specific bacteria is over $150. Also, at the moment Hypatia is on her 3rd round of Clavamox for UTI in 6 months. She gets Vetasyl (psyllium husks) sprinkled in her food but only about once a week. Prescription food is ~$37 but as my friend writes "I don't worry too much about this one; they will always have food"! In addition, she's bought lots and lots of pads for the apartment and bed due to the leaking problem.

Right now the biggest priority for Hypatia is this: Her regular vet is Dr. Yen at the Campus Veterinary Clinic and he and my friend have talked about taking Hypatia to a neurologist he's recommended in Dublin (SE Bay Area). An exam and consult there will likely be "around $150". What actual treatment, if even possible, would cost can't be estimated until after a visit. Transport to the neurologist could be costly but "I'm going to look into doing the "pet taxi" thing", she writes. Dr. Yen also believes that she needs some x-rays (both looking for structural damage, i.e., disc degeneration, and for trying to pinpoint where, exactly, the intestinal blockages occur) and thinks that will be "a couple of hundred dollars". But that's secondary until she's been to the neurologist.

The vet clinic accepts donations on behalf of clients and says to please contact them by phone or email for details. The staff there all know Hypatia and any money that comes in with her name attached will be put on my friend's account to help with all this. If you'd rather send something directly to my friend, I will gladly pass it on through my PayPal account, email address [email protected] and account for everything in detail. Please also feel free to contact me with any questions and/or suggestions. I talk with her at least once a day over Google Voice. Any help is deeply appreciated by her and me.
At the back, Tanuki, orange-white and very fluffy, in the middle Smudge, black-white and a bit pudgy, and at the front, Hypatia