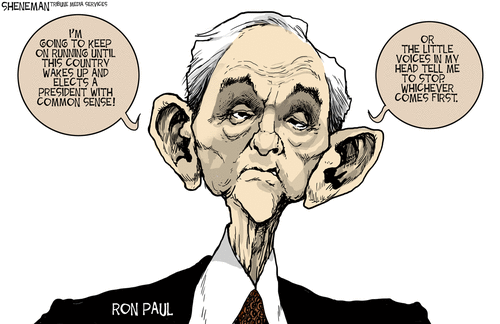 (Drew Sheneman via GoComics.com)
The little voices will not be silenced! From TPM2012's Benjy Sarlin, Monday at 6am:
As Chaos Mounts, Ron Paul's Convention Plans Remain Mysterious
Mainstream Republicans afraid Ron Paul's steady accumulation of delegates will cause chaos at their national convention in Tampa just received a terrifying preview of what a worst-case scenario might look like.

In Oklahoma on Saturday, Paul supporters and Romney supporters reportedly came to blows as the Paul side fell short of electing their slate of delegates amid cries of foul play, including the use of a voice vote instead of a more painstaking roll call to decide the outcome. Speaking at the event, Romney surrogates Tim Pawlenty and the state's own governor, Mary Fallin, drew jeers.

At the state convention in Arizona, also this weekend, the presumptive nominee's son, Josh Romney, was booed off the stage by Paul supporters, some of whom derided his father as "the white Obama."

At this point it's way too late to keep Paul from having a sizable presence at the Republican National Convention, and likely control of enough state delegations to put his name up for a floor vote against Romney. But it's still an open question just what these delegates and other Paul activists planning events for the national convention will do when they actually get there….
Benjy Sarlin, timestamp Monday 2:35pm:
The Revolution Retreats: Ron Paul Partially Suspends Campaign
Ron Paul is shutting down all operations in upcoming primary states, dramatically scaling back his campaign due to a lack of resources.

"We will no longer spend resources campaigning in primaries in states that have not yet voted," Paul wrote in an e-mail to supporters Monday. "Doing so with any hope of success would take many tens of millions of dollars we simply do not have. I encourage all supporters of Liberty to make sure you get to the polls and make your voices heard, particularly in the local, state, and Congressional elections, where so many defenders of Freedom are fighting and need your support."…

Paul has yet to make clear what he plans to do with his delegates at the Republican National Convention in Tampa, and activists planning on attending have expressed differing views and sometimes confusion as to what their goals will be heading into the event….
A political cynic might consider the narrative line between these two stories and ponder what kind of blistering RNC emails greeted the good Dr. Paul when he padded downstairs in his fluffy goldbug slippers this morning. Or what the RNC shills eventually offered him in return for dialing back the crazy from 11 to, say, 6.5. The RonPaulistas are not cynics of this stripe. The comments to Sarlin's second article are a rich buffet of… let's call it eleven-dimensional multifocal global strategerizing:

This is such garbage! He is not suspending anything. This is no different then when he ignored Florida and a couple other early states before their primaries. He is focusing his money on Tex and Cal., and he will continue to help out at the local level so that he can continue to rack up delegates in caucus states and primary states that hold separate conventions. Nothing has changed folks. But he is getting some free press. :) Surprise! He's still here! :P
*This is the only way the press will cover him!!!! Let's see what happens at Tampa……….

Man, I guess this idiot reporter has a journalism degree and all Humm? NO CAMPAIGN HAS BEEN SUSPENDED STUPID, go back to school you need it, I hear Obama has students loans available. If you can't report the truth without misleading headlines to maximize impact, you don't have what it takes to be a journalist. LOL Moron! Ron Paul President 2012.

I didn't see a "suspension" of a campaign in this article either. Not spending money unnecessarily – let's not forget Dr. Paul is a freaking financial expert – is an intelligent move. Besides, WE are going to make sure people know who he is, REGARDLESS as to whether he has money in his coffers. And the media is covering him more than ever, even if it is all trying to make us look like bad little "citizens" for insisting on our right to participate in the way we are "governed".

It just tells me, he's going to bid his time and save some money. Then he's going to march into the convention like Palin and demand some respect…or else the armed mob outside will start making some noise.
*He's going to march into the convention, release his delegates to Mittens and then Rand Paul will be selected as VP. Watch.
*That fails on the fact that a Paul supporter will never vote for Romney.. released or not. And haven't you heard… all delegates are unbound anyway. And official RNC lawyer has stated so.

MSM lied about Ron Paul dropping out since they know Paul is leading in the majority of unbound delegates, so Obama has more popularity when it's Paul vs Obama.
I'm not sure I completely follow the logic on that last one, but then, I am neither a 'freaking financial expert' or an accomplished RISK role-player. (Incidentally, would you believe that this blog does not have a category for 'nutpicking'? Guess it's a little late to start one now.)
Murphy the Trickster God does not love me enough to give the RonPaulistas an on-camera role at the Tampa convention, but I will cheer every monkeywrench they throw into the Romneybot's coronational machinery along the way — and every dollar wasted by the Permanent Republican Party on quelling the Paulista peasants that would otherwise be used against Obama.