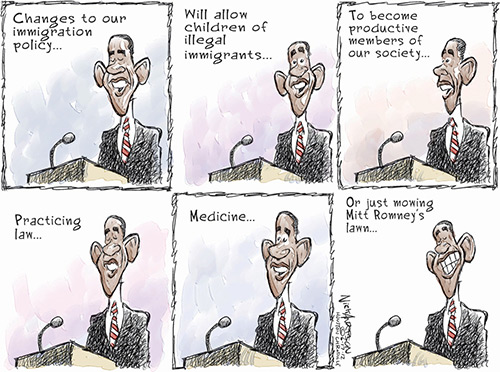 (Nick Anderson via GoComics.com)
__
Until Mr. Pierce reminded us, I had forgotten that, despite the perceived crushing of his vice-presidentail hopes, Marco Rubio still has a book to sell. But is he bitter?
Marco Rubio: Anyone who doesn't agree with the left's approach to immigration oftentimes gets stigmatized as anti-immigrant or anti-Hispanic. And so I think that finding a solution that balances these two sides is very difficult. It's not easy. You can't just do that with a magic wave of the wand.

Charles P.Pierce: There's nobody that I can see on the left that's quite as — I won't even use "dogmatic" — quite as harsh as, say, Steve King.

MR: Well I would say that's not as — well, for example, I've been called anti-immigrant.

CPP: By whom?

MR: People on the left say that —

CPP: Who on the left has called you anti-immigrant? That would be enormously silly, it would seem to me.

MR: The chairman of Univision [Randy Falco] called me anti-immigrant — he's a huge Democratic donor. I'd be more than happy to provide you with a detailed accounting of some of the most outrageous things that have been said about me, and you'll have those today, but my point is that neither side is blameless in the rhetoric of this issue. And by the same token, it's not just the rhetoric, it's this view — that somehow this is a very easy, black-and-white issue that there is an obvious solution to — that is not accurate. Both sides are making that argument.
That would be an affirmative, Houston.
Apart from dashing the fondest hopes of hard-blathering Repubs, what's on the agenda for the evening?