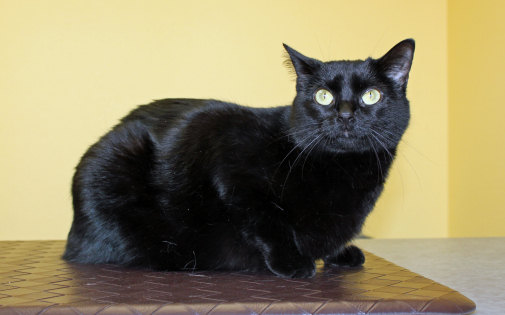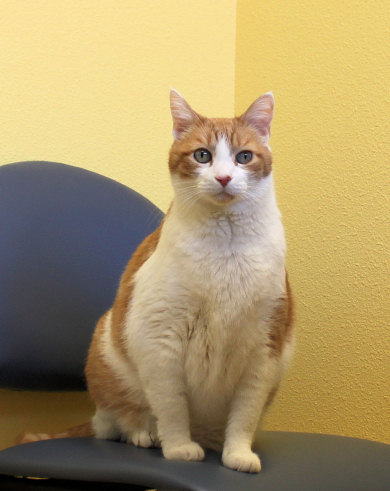 __
From commentor Carol V:
These are Mandalay, a beautiful all-black princess, and Flash, a talkative yellow and white tabby. They're in northern Colorado and in need of new homes.

Here's their story.

My 80-year-old father, who lives in northern Alabama, has Alzheimer's and a host of other medical problems, and all us kids finally convinced him to move into assisted living. Earlier, he'd moved from his large house to a 900-square-foot apartment in a retirement community, to which he brought 4 cats. Then, probably because of his disease, he adopted 2 more cats, both of whom the paperwork identified as "spayed females, 9 mos." Well, they may have had the age right, but as to the spaying, not so much. One of them got out, had a debauched evening of joy, and subsequently, a litter of 6 kittens. Crowded cats aren't happy cats, and soon began expressing their displeasure by ignoring the cat boxes, to the point of eye-watering stench the moment you walked in the door. This was all complicated by the fact that my father's new "girlfriend" fired the cleaning service some months before so she could pocket the $200/week for herself (a whole 'nother story for another day). Because of the girlfriend, we had to go to court to get a guardianship and control of his finances, and I got elected for the duty because I'm the oldest. Oh lucky me. The first thing we did is find new homes for the two younger cats and all the kittens. Not easy in northern Alabama, where the pet shelters are so overwhelmed that surrendered cats are usually euthanized within 2 weeks to make way for incoming.

In assisted living, my father is only allowed to have one cat. Since none of the kids believed the remaining cats should suffer because of our father's illness, we decided to fly them to California and Colorado, where the pet welfare resources are better. Mandalay and Flash are the last two. They are currently living in my vet's hospital because I already have 6 cats and at least one would be scarred for life if we took in more.

Mandalay is about 4 years old. She likes attention and petting, and will purr until she drools, but she's shy, so it takes her awhile to warm up to new situations. She's gotten much better at the hospital, with people coming and going all the time. She hisses like a leaky tire when startled, but she's all sound and no fury, and quite tractable if you hold her so she feels safe. She was rescued in Alabama from the edge of a rain-swollen ditch when she was about 6 months old. She doesn't like to venture outside for long. She'd very likely prefer to be a totally indoor kitty, where the unexpected doesn't jump out and try to eat her. She likes to be up high, such as kitchen counters and tops of refrigerators, and may need gentle training that momentarily unwatched food is not fair game. As you can see, she poses beautifully for photos.

Flash is a confident 12-year-old neutered male with miles of personality and will tell you all about it. The pitch and timber of his voice hint at Siamese ancestry. He's a bit on the festively plump side, so he should probably be kept on a high-protein, calorie-controlled diet. He loves attention and petting, and will follow you around to see what you're doing and giving you a running commentary all the while. He'll occupy your lap like a 99-percenter until your legs fall asleep. He used to be really skilled at dashing outside when he wasn't supposed to, but he's slowed down a bit in middle-age. He also steals sox and winter scarves and drags them around when given the opportunity. We think he'd accommodate well-behaved dogs quite nicely.

The cats could go together or be separated — they're comfortable with each other, but aren't a bonded pair. They're currently living in Fort Collins (which is not on fire, by the way, just the foothills 15 miles to the west) and would very much like to have their own people and real homes, not just a cage. My family would be willing to help pay the costs for one or both cats to travel to the right home(s). They are sweet, wonderful cats who deserve a second chance.
If you're interested in either of these two, or have any leads for potential new families, and you don't want to put your contact information in the comments here, you can contact me at AnneLaurie @ verizon dot net (or click on my name to the right).