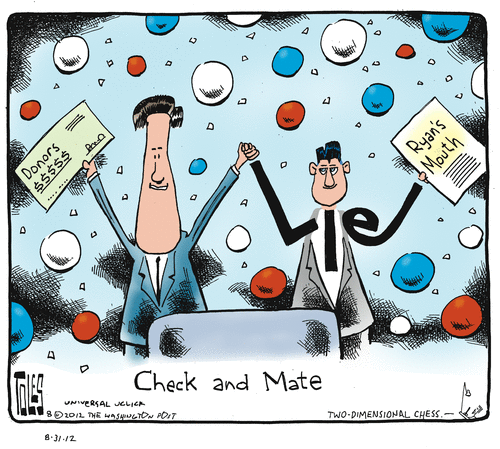 (Tom Toles via GoComics.com)
__
Best descriptive title award goes to Paul Constant: "Triumph of the Willard":
Mitt Romney finally got exactly what he wanted tonight. A coming out party. A debutante's ball. A two-and-a-half-hour long very special episode of This Is Your Life, so the whole world can see just how gosh-darned great Mitt Romney really is. He's smart, successful, calm, dignified, loving, kind, and, oh, yeah, did we mention humble? Totally humble. And real. Authentic. Human. Honest. Funny. Did we say kind before? Let's just say kind again, to be sure…

… Mitt should be happy with himself. He didn't fuck up his speech. He got properly pissed-off at the right parts, even though he stumbled on the humorous parts, looking awkward as he waited for people to laugh. He shouted out to evangelicals with his calls for the banning of abortion and gay marriage.

And he even pulled one of his famous pranks, when he said he'd create twelve million jobs in four years. Twelve million! Can you imagine the roars of laughter in the writers' room when that number came up?… There was no policy to back up that number, only a 5-point plan involving killing Obamacare, lowering taxes and regulations, cutting the deficit, promoting school vouchers, and drilling for oil on American land. Over half of those things have absolutely nothing to do with small business creating jobs at all in the short term, and would probably re-cripple the economy, Bush-style, in the long term. So, get it? That's rich. That's a real knee-slapper. And it was the only policy in the whole speech, aside from a vigorous remounting of the Bush doctrine.

But that doesn't matter, either. What maters is that Mitt Romney spent eleven hours over three days listening to his enemies sing his praises to the heavens. Gingrich, Santorum—he crushed them all, and made them lavish hosannas upon him after the fact. His whole party rallied around him, and they almost made it feel convincing. Still, nobody likes Mitt Romney. But they will back him now, because they have no choice. They will pretend that they've always tolerated his wishy-washiness, his powdery touch, his creepy smile.

And as Romney's celebration ended and the perfect balloons fell from the ceiling perfectly, I sat there in the Tampa Times Forum looking down at him relishing his moment, and I thought to myself, huh. I guess money really can buy you love.
Concerning the other Big Watercooler Topic of the evening, here's Erick "Always for Sale, to the Right Bidder" Erickson:
… Now a word on Clint Eastwood.

It was entertaining, but it was weird. Many Democrats are scratching their heads wondering what the heck that was. I'll tell you what it was. It was the unscripted conversation of an independent voter coming to terms with the end of the Obama love affair.

That speech may not resonate inside the beltway, but it resonates in Ohio and Florida and Wisconsin and other swing states. Clint Eastwood made people comfortable laughing at the President and Joe Biden, the great intellect of the Democratic Party, a smile with a body behind it.

I thought it was bizarre. But as a friend pointed out, lots of politically astute people thought Carly Fiorina's now infamous demonsheep ad was bizarre and it turned out to resonate with people because the bizarreness and unfamiliarity with what they were seeing made them pay attention.

Clint Eastwood did that and it worked.
Is there an alternate universe inside the gated communities of Atlanta where Carly Fiorina won? Because I'm sure hearing 'Go ahead and laugh at That Black Man in Our White House, since it's not like he's the one in charge now anyways', was a relief to certain portions of the GOP/Confederate Branch, but if Eastwood's "old man yells at chair" comedy stylings turn out to be as resonant as the Demon Sheep ad, this is… not good news for John McCain Mitt Romney.