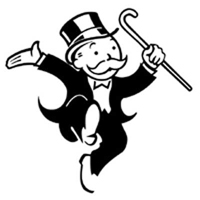 Say you're an arrogant asshole who is spectacularly mismanaging an organization. You're buying an $87,000 area rug while your company goes down in flames, blowing massive holes in innocent bystanders' life savings and demanding mind-boggling bailouts to keep your astounding incompetence and greed from pauperizing the entire planet forever. That can only mean it's BONUS time!
The Marquis de Mittens really is bringing this fabled job creator ethos to the political realm: Just as the wingnut lamentations about his campaign's incompetence reached an earsplitting crescendo, we learn that the consortium of hapless clods who are driving the clown car received bonus checks:
Mitt Romney's campaign handed out more than $200,000 in bonuses last month to senior staffers, according to new disclosure records filed Thursday.
Keep in mind that the Mittens campaign is all about combatting the "culture of dependency" by separating indolent lay-abouts from le dole. Hahahahaha! The end.
[X-posted at
Rumproast
]