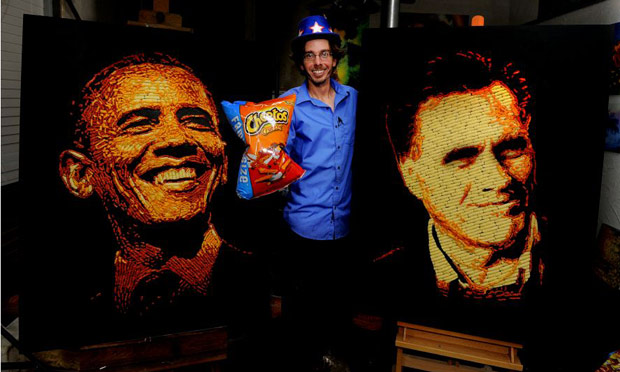 Artist Jason Baalman poses in front of portraits of Barack Obama and Mitt Romney made entirely of more than 2,000 individual Cheetos snacks. Photograph: Jack Dempsey/AP
__
Nine PM Eastern Daylight Time, so this may be your last chance to ensure your stockpile of adult beverages and snacks is adequate.
Photo above from the Guardian liveblogging link, earlier versions of which may have saved my sanity during the Republican clown-car cavalcade.
And for our non-American readers, Washington Post political reporter Dana Milbank explains the Zinger:
The Zinger is an unwholesome confection.

One serving of this Hostess snack, which is basically a Devil Dog or a Twinkie with icing, has 35 percent of your daily allowance of saturated fat — and some trans fat thrown in for good measure. The first ingredient listed is sugar, followed later by corn syrup, high-fructose corn syrup, artificial flavor, glucose and polypropylene glycol…

Before the debate, Obama was trying to blunt Romney's zings. "I know folks in the media are speculating already on who's going to have the best zingers," he said Sunday. "What I'm most concerned about is having a serious discussion."

Asking Romney to give up his favorite snack food in favor of a healthy give-and-take? There you go again, Mr. President.