First, my lovely and highly productive hens: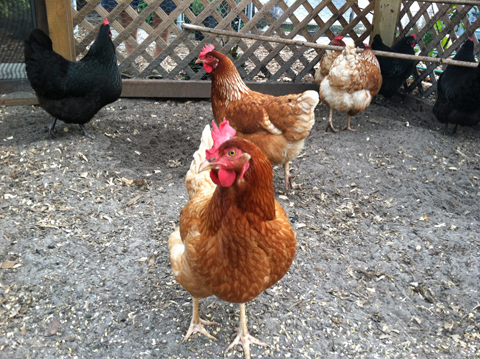 Now for the poll: A volunteer from the Koch-sucker AFP group called me awhile back and asked if I thought President Obama's policies had made the economy better or worse. I said I thought they had definitely made the economy better after Bush and his pals trashed the joint.
She then asked me if I planned to vote, and I told her I certainly did. She asked if I planned to vote early, and I replied that I would have already voted if I could have, but thanks to Tea Party-backed nitwit Governor Scott's villainous attempt to exclude as many working people as possible by cutting the early voting period, I'd have to wait until tomorrow.
I then said I would be at the polls bright and early to cast my ballot. She wished me a pleasant evening, and I wished her the same.
Open thread!
[X-posted at
Rumproast
]