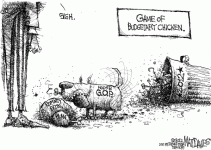 (Matt Davies via GoComics.com — click link for full-sized image)
__
Normally I ignore Charles Krauthammer like I do my dog's noisily self-grooming his groin area, but this is just too mock-worthy:
Let's understand President Obama's strategy in the "fiscal cliff" negotiations. It has nothing to do with economics or real fiscal reform. This is entirely about politics. It's Phase 2 of the 2012 campaign. The election returned him to office. The fiscal cliff negotiations are designed to break the Republican opposition and grant him political supremacy, something he thinks he earned with his landslide 2.8-point victory margin on Election Day.

This is why he sent Treasury Secretary Tim Geithner to the Republicans to convey not a negotiating offer but a demand for unconditional surrender. House Speaker John Boehner had made a peace offering of $800 billion in new revenue. Geithner pocketed Boehner's $800 billion, doubled it to $1.6 trillion, offered risible cuts that in 2013 would actually be exceeded by new stimulus spending and then demanded that Congress turn over to the president all power over the debt ceiling.

Boehner was stunned. Mitch McConnell laughed out loud. In nobler days, they'd have offered Geithner a pistol and an early-morning appointment at Weehawken. Alas, Boehner gave again, coming back a week later with spending-cut suggestions — as demanded by Geithner — only to have them dismissed with a wave of the hand.

What's going on here? Having taken Boehner's sword, and then his shirt, Obama sent Geithner to demand Boehner's trousers. Perhaps this is what Obama means by a balanced approach….
What is best in life? To crush your enemies, see them driven before you, and hear the lamentations of their pundits!