Mike Huckabee has never been what you might call my favorite person.  But it's always depressing to see folks with influence plumb new depths.  By now, I'm sure you've heard he had to say about the Sandy Hook School shootings:
"We ask why there is violence in our schools, but we have systematically removed God from our schools," Huckabee said on Fox News."Should we be so surprised that schools would become a place of carnage?"
In other words:  Twenty-eight deaths, including the murder of twenty kids, was the fault not of the shooter, nor of a gun lobby that portrays military weapons as household tools.  Rather, said Huckabee, it was your fault and mine for having failed to appease his angry god by public worship in school.
Saying so is to implicate not just America at large in the crime.  It also adds up to a claim that those involved in the Sandy Hook Elementary School in particular were complicit in this massacre, for the banishment of one deity or another occured in that particular school too.  Lost a kid?  Too bad.  Shoulda prayed harder; shoulda held up a cross; shoulda, coulda, sorry old chum.
I can't begin to write the rage and disgust I feel for that sanctimonious shit.  (Whether the word "shit" in that sentence applies to the man or the thought I'll leave it to the reader to decide.) I want to say that it seems to me that there is a special place in hell Mike Huckabee.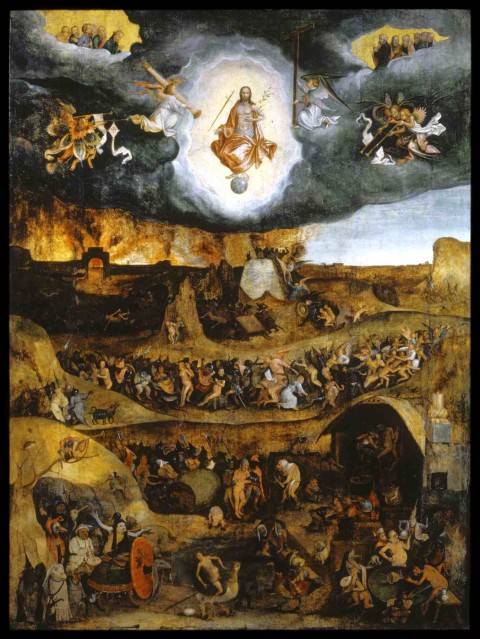 Unfortunately, I don't think I can say that any more eloquently  than a howl and a "with a rusty pitchfork too!" kind of remark.  Fortunately, there are others who could and did describe exactly the appropriate fate for Mr. Huckabee — from one of whom, with your permission, I will now borrow.
Here's one possibility that would satisfy my sense of justice:
The sides were crusted over with a mould/Plastered upon them by foul mists that rise,/And both with eyes and nose a contest hold./The bottom is so deep, in vain our eyes/Searched it till further up the bridge we went,/To where the arch o'erhangs what under lies./Ascended there, our eyes we downward bent,/And I saw people in such ordure drowned,/A very cesspool 'twas of excrement./And while I from above am searching round,/One with a head so filth-smeared I picked out,/I knew not if 'twas lay, or tonsure-crowned./'Why then so eager,' asked he with a shout, 'To stare at me of all the filthy crew?'/And I to him: 'Because I scarce can doubt/That formerly thee dry of hair I knew…
But perhaps that's not miserable enough.  How's this?
Then we descended from the bridge's head,/Where with the eighth bank is its junction wrought/And full beneath me was the Bolgia spread,/And I perceived that hideously 'twas fraught/With serpents; and such monstrous forms they bore,/Even now my blood is curdled at the thought./Henceforth let sandy Libya boast no more!/Though she breed hydra, snake that crawls or flies,/Twy-headed, or fine-speckled, no such store/Of plagues, nor near so cruel, she supplies,/ Though joined to all the land of Ethiop,/And that which by the Red Sea waters lies./'Midst this fell throng and dismal, without hope/A naked people ran, aghast with fear—/No covert for them and no heliotrope/Their hands were bound by serpents at their rear,/Which in their reins for head and tail did get/A holding-place: in front they knotted were./And lo! to one who on our side was set/A serpent darted forward, him to bite/At where the neck is by the shoulders met./Nor O nor I did any ever write/More quickly than he kindled, burst in flame,/And crumbled all to ashes./And when quite He on the earth a wasted heap became/He on the earth a wasted heap became,/The ashes of themselves together rolled,/Resuming suddenly their former frame.

(Dante, Inferno, Canto XVIII, lines 106-121 and Canto XXIV, lines 79-106)
The translation's a little old-fashioned, I know — but that's what Gutenberg.org had on hand.
In any event, if I were a believer, I'd be hoping that Dante's description of the torments of the damned is spot on.  And if it were then I would suggest to Mike Huckabee that he be afraid.  Very, very afraid.
Image: Pieter Huys, The Last Judgement, between 1555 and c. 1560