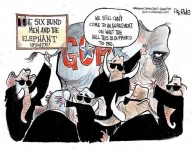 (John Deering via GoComics.com – click link for fullsized image)
.
Dana Millbank, in the Washington Post:
At a retreat for Republican leaders last month, former House speaker Newt Gingrich told them to "learn to be a happy party" and a "cheerful" one, and Republican National Committee Chairman Reince Priebus said they should be a party "that smiles." Louisiana Gov. Bobby Jindal told his fellow Republicans to talk about "just how incredibly bright America's future can be."

In other words, Republicans will win elections if only they can stop being so dour, dammit.

House Majority Leader Eric Cantor took this don't­-worry-be-happy strategy seriously, and in a heavily promoted "major" speech to the American Enterprise Institute on Tuesday afternoon, he let the sun shine in. …

But the sunny routine was a difficult one for Cantor, who has made a career in Washington of being testy and acidic. His delivery was forced and, as he read his text, he seemed to be reminding himself to grin. As a result, he scowled for much of the speech and sounded as though he were spitting out his words. Smiles formed at inopportune times, such as when he described a boy's failure in public school….

One questioner, Eric Pianin from the Fiscal Times, pointed out the conflicting messages and asked, "Who really speaks for the Republican Party?"

Cantor didn't hesitate. "The average American is not thinking about and trying to wonder about where the Republican Party is," he said.

Cantor might heed his own advice: Americans don't care about Republicans' happy talk. They want happy results.
******************
So… here in New England, we're buckling down for a nor'easter that the weathermen are gleefully predicting "should easily enter the list of Top Ten Boston-area storms".
What's on the agenda for the start of your weekends?