Don't know what to make of this one, really, (any of you know how rigorous La Repubblica is in its journalism?), but here's the Grauniad's gloss on that paper's report:
A potentially explosive report has linked the resignation of Pope Benedict XVI to the discovery of a network of gay prelates in the Vatican, some of whom – the report said – were being blackmailed by outsiders.

The pope's spokesman declined to confirm or deny the report, which was carried by the Italian daily newspaper La Repubblica.

The paper said the pope had taken the decision on 17 December that he was going to resign – the day he received a dossier compiled by three cardinals delegated to look into the so-called "Vatileaks" affair.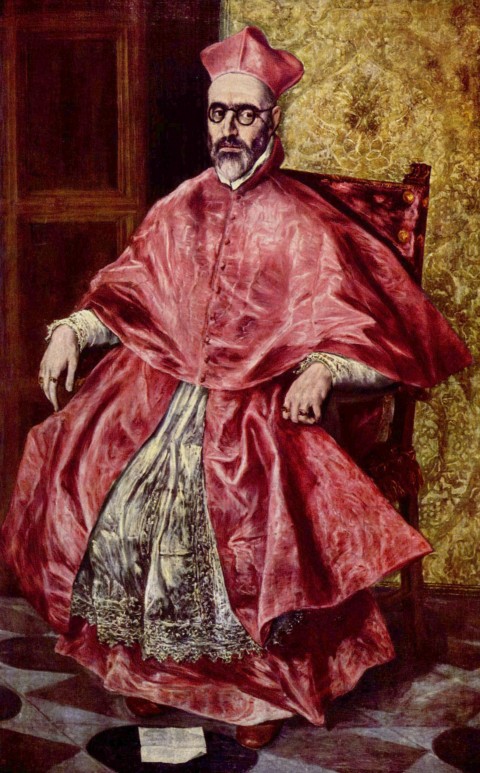 Last May Pope Benedict's butler, Paolo Gabriele, was arrested and charged with having stolen and leaked papal correspondence that depicted the Vatican as a seething hotbed of intrigue and infighting.

According to La Repubblica, the dossier comprising "two volumes of almost 300 pages – bound in red" had been consigned to a safe in the papal apartments and would be delivered to the pope's successor upon his election.

The newspaper said the cardinals described a number of factions, including one whose members were "united by sexual orientation".

In an apparent quotation from the report, La Repubblica said some Vatican officials had been subject to "external influence" from laymen with whom they had links of a "worldly nature". The paper said this was a clear reference to blackmail.

It quoted a source "very close to those who wrote [the cardinal's report]" as saying: "Everything revolves around the non-observance of the sixth and seventh commandments."  (h/t GOS)
Correlation is not cause, even if La Repubblica really has this story nailed, though I can certainly see how such a report might confirm someone in Benedict's position in their conviction that it might be time to take a hike.
I'm not a Catholic myself, as I'm guessing most of you know, and I've never reported on the Vatican (though I've been a guest inside its walls on a couple of occasions).  So I can't claim any insight into the politics behind St. Peter's Square.  So here's Charlie Pierce with a more informed take:
La Repubblica is not a scandal sheet, regardless of what you're likely to be hearing from members of the Clan Of The Red Beanie over the next few days. The Italian press is famous for journalistic, ah, entrepreneurship*, but this newspaper notably has not been a big part of that culture…

What gives me a little pause is that the "secret gay cabal" theory is an old favorite among those curial powerbrokers for whom Machiavelli was something of a wimp. It also has been a regular trope of conservative Catholics seeking to defend the institutional Church's inexcusable behavior in the face of the sexual abuse scandal, largely through the rancid technique of implying that being gay and being a pedophile are so closely allied that the former have a reason for covering up for the latter. (The linked piece from the Telegraph makes it clear that "the other side" that so exercised Dreher was not a "Lavender Mafia," but the usual cast of institutional authoritarians up to and including John Paul II) It also is an old-line reactionary conspiracy theory beloved of, among other people, the late crackpot Malachi Martin.

…There's a helluva lot more in the VatiLeaks documents than sins of the flesh. There's a whole rat's nest of bribery, nepotism, influence peddling and many other things not unfamiliar to those of us who have covered the state government here in the Commonwealth (God save it!)…
Go read the rest of what Pierce has to say; it's all good.
One last note:  as we all know, the US Catholic Church (or rather its princes) have spent a lot of time in recent years injecting their claims of moral authority into civic debate.
That they have some reason for humility before the temptation to thus lecture the rest of us we all know.  With this, assuming it proves out, we now have one more reason to add to an already ample tally to point and laugh each time they once again condescend to lecture the civil body.
*I can attest to this "entrepeneurship" myself.  I was a cub reporter, a stringer for Time, in London when Calvi, the Vatican's corrupt banker (early 80s edition) was found hanging from Blackfriars Bridge.  I did a little reporting on that story, though bigger wigs than I got most of the fun.  I did come across one delicious unpublished detail, though:  an Italian TV news team, too late to film the body in situ bought a blow-up sex toy in Soho, dressed it up in a dark suit, and filmed the resulting ringer.  Awesome.
Image:  Diego Velasquez, Portrait of Cardinal Inquisitor Don Fernando Niño de Guevara, 1596-1601