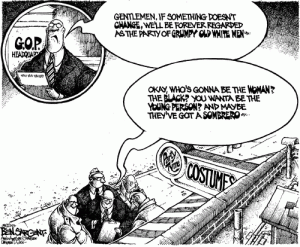 (Ben Sargent via GoComics.com)
.
Detail-intensive, depressing/infuriating article from Bloomberg:
… A majority of Americans disapprove of the Republicans in Congress, yet the odds remain in the party's favor that it will retain control of the House. One big reason the Republicans have this edge: their district boundaries are drawn so carefully that the only votes that often matter come from fellow Republicans.

The 2010 elections, in which Republicans won the House majority and gained more than 700 state legislative seats across the nation, gave the party the upper-hand in the process of redistricting, the once-a-decade redrawing of congressional seats. The advantage helped them design safer partisan districts and maintain their House majority in 2012 — even as they lost the presidential race by about 5 million votes. Also nationwide, Democratic House candidates combined to win about 1.4 million more votes than Republicans, according to data compiled by Bloomberg News.

"The Republican-created maps in most states set up a sort of seawall," said Justin Levitt, a professor at Loyola Law School in Los Angeles. "As the decade goes on, people do shift party allegiances and move in and out of town, and so the effects erode a little bit, but it's still a seawall and it's still keeping some of the flood of 2010 in," Levitt said. …

Map-making software is cheaper, more powerful and widely available, compared to a decade ago. State lawmakers can build databases with detailed voter registration figures, election results and population data to project campaign outcomes and demographic trends.

It may also be easier to predict voter preferences. Party- line voting is increasing: fewer than 30 districts backed the presidential candidate of one party and a House candidate of the opposite party in 2012, the lowest total in at least 90 years, according to data compiled by Bloomberg.

"If you're a map-maker drawing lines, that's just gold for you, because you can very reliably use partisan voting patterns in one election to predict what it might be in another, or much more so than you could before," said Rob Richie, the executive director of FairVote, a Takoma Park, Maryland-based nonprofit that wants to change the redistricting process to reduce partisanship in Washington.

The 2012 results show how Republicans gerrymandered congressional lines to produce favorable outcomes even in states that lean Democratic….