I dropped the kiddo off at school this morning, like I do most weekdays when it's not summer. I was driving away, reeling from the teenage-pheromones contact buzz and listening to NPR's breathless coverage of the Boston Marathon bombings, and it occurred to me for the millionth time that we — all of us — are generally able to ignore the specter of death due to a lifelong practice of internal terror management, using whatever ways work best for us.
None get out alive, and the unlucky are separated forever from those they love in an instant by extraordinarily violent means. Sometimes it makes screaming headlines; more often it goes unnoticed by all except those directly affected. But the pain and despair are the same.
I saw this crane family in a median strip on the highway, two fuzzy hatchlings and their parents: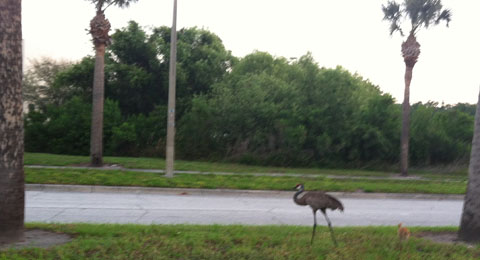 Of course, it all looks fuzzy because I suck as a photographer and was using a camera phone while stopped on the highway and watching for oncoming traffic in my rearview mirror. But trust me — the babies are adorable fuzz balls on stalky legs following sleek, elegant, purposeful parents who stand more than three feet tall: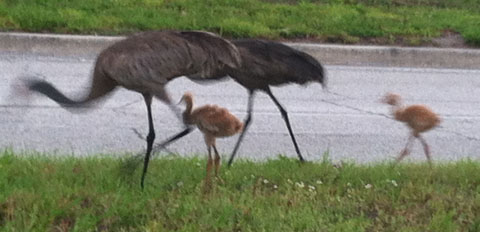 Did seeing this lovely crane family turn my morbid thoughts to life and spring and hope? Well hell no, actually: For one thing, the damn cranes were on the median strip of a highway with a 45 MPH speed limit, so I worried that they'd be flattened by a school bus or dump truck.
But the cranes were focused on the moment, attentive to the task of finding the next juicy bug, with the adults helping the chicks learn to ruin flowerbeds and putting greens while navigating swampy landscapes with all the attendant hazards. Their kind — and ours — will continue about the business of daily life until the earth chokes to death on emissions, is rendered barren by an asteroid or is incinerated by the sun, whichever comes first. There's some comfort in that, I suppose.
Please consider this an open thread.
[X-posted at
Rumproast
]