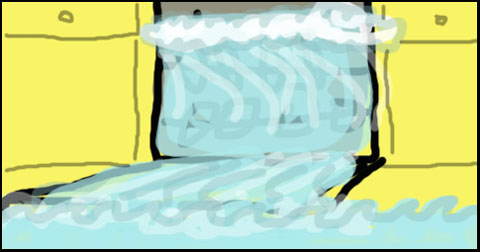 Until yesterday, I thought that opening a dishwasher door during a cycle would cause catastrophic flooding. I've never really thought about how dishwashers operate, though I recently purchased and helped install one.
When I was considering various units for my kitchen rehab, the sales dude did explain the differences between the different models and spraying doohickeys, but mostly all I heard was "Blah blah blah blah $450 dollars," and "Blah blah blah blah $675 dollars."
I guess I must've known on some level that a cycle didn't entail the unit filling up completely with water. Why would it?
And yet I have always imagined exactly that, because yesterday, when my husband found a stray fork shortly after I'd started the dishwasher and went to open the door to add it to the rack, I reacted as if he'd moved to open the floodgates of the Hoover Dam.
We've been married long enough that he knows it's pointless to argue with me, so he simply ignored my remonstrations and opened the door. And it just shut off. He added the fork and closed the door, and it started up again. It's like the whole universe is a lie.