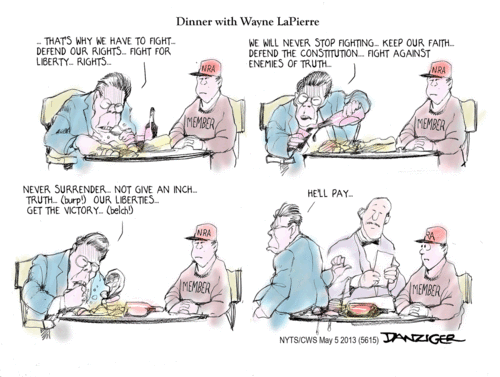 (Jeff Danzger's website)
.
For all the noisy triumphalism, the NRA isn't really coming across as a bunch of winners — just whiners. Elspeth Reeves at the AtlanticWire reports "The NRA Convention Is Packed with Heat, Dip, and Sore Winners":
The National Rifle Association just had an amazing victory in defeating a bill to require universal background checks on gun purchases — something it endorsed 15 years ago — and yet the speakers at its 142nd annual convention in Houston sounded awfully bitter. Several speakers devoted part of their speeches to media criticism, saying the big bad MSM had been mean to them. "Those in the media — yeah, you know who I'm talking about — they think they know better than we do, they think they're msarter than us," said Wayne LaPierre, the gun lobby's executive vice president. "Some in the media try to turn us into the bad guys," said Rick Perry, the gun toting Texas governor. "Acronyms," Sarah Palin said, like MSNBC, CBS, ABC, "one day they will think themselves accursed that they were not in this fight with us."

On Friday, the convention felt like a mini-CPAC, in that several potential presidential candidates took turns on the stage — Louisiana Gov. Bobby Jindal, Texas Sen. Ted Cruz, Perry — or appeared in video form, as Wisconsin Gov. Scott Walker and Wisconsin Rep. Paul Ryan did. Perhaps that explains the feeling of doom amid glorious triumph, because the gun legislation victory came just a few months after devastating electoral defeat…
Charles P. Pierce casts a cold eye at the new NRA president, James Porter:
…[A]s we careen through the rock-strewn wasteland of his mind, we are suddenly interrupted by the telltale sound of the kitty leaping free of the burlap.

Porter, 64, whose father was NRA president from 1959-1961, is part of the small, Birmingham, Ala., law firm of Porter, Porter & Hassinger. The firm's website notes its expertise in defending gun manufacturers in lawsuits.

When they say it's not about the money, it's always about the money.
And even Politico (or, as Mr. Pierce calls it Tiger Beat on the Potomac) just isn't feeling the love any more:
HOUSTON — The National Rifle Association has become, more than ever, part and parcel of the Republican Party…

The result is on display at this weekend's NRA annual meeting here, where Democrats are glaringly absent from the roster of speakers…

This year, a host of potential 2016 Republican candidates pledged their fealty to the NRA. The keynote speaker at a Saturday night rally is Glenn Beck…

Former Democratic National Committee Chairman Howard Dean was endorsed by the NRA in each of his six statewide runs for governor of Vermont, something he touted when he ran for president in 2004. As a kid, he won NRA medals for marksmanship. But he said the group lurched right in search of money and members, even as national Republicans realized after their losses last November that they need to work with Obama.

"The NRA has essentially decided, whether consciously or not, to vacuum up the detritus left from the tendency of the Republican leadership to move to the middle," he said. "It almost sort of completes a journey for them from being a mainstream organization to sort of being the equivalent of the John Birch Society."