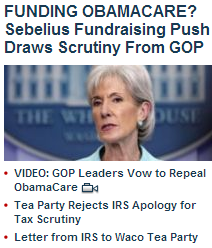 You'd think that the devil admitting that he's been up to deviltry would merit banner headlines on Fox News, but looking there this morning, the story that the IRS singled out the Tea Party for scrutiny gets a pretty perfunctory mention, buried under the billionth swipe against Obamacare, and well under Boehner and Benghazi.
I was surprised at first, and maybe Fox just hasn't decided exactly how to play it, but perhaps it isn't the slam-dunk for the right that it appears at first glance. It does bring up the Tea Party, which Fox would rather forget. And, as much as singling out one set of taxpayers for apparently political scrutiny is wrong, the notion that Tea Party groups were non-political is a fucking joke, and the real shame here is that the IRS didn't turn up the heat on all of these supposedly non-political, but completely political, non-profits (liberal or conservative). So, perhaps Fox is afraid that the full Benghazi treatment for the IRS would endanger groups like Crossroads GPS.
Still, I was expecting more. Satan is in their sights. Why hasn't the witchhunt commmenced?