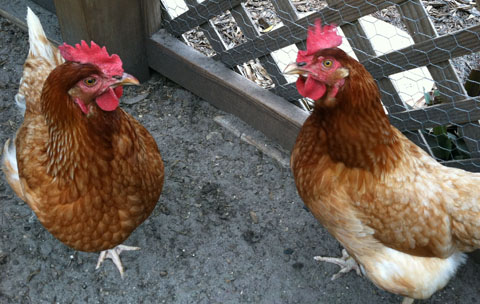 I've never seen "Game of Thrones" — I'm waiting for it to come out on Netflix. But the intrigues can't be anywhere near as Byzantine as the shifting plots and alliances that occur daily among my hens. We can't keep up with who is Boss Hen anymore without a score card. I believe that's Dorito and Ravenclaw above plotting to depose Joan Jett, but maybe they're conspiring against Fuzzbutt.
I have a clear view of the coop from my desk, and every now and then I'll hear a condor-like screech or other kerfluffle and see one hen pouncing on another. No one ever seems to be injured, but combs are spitefully pulled and feathers dislodged. It's a jungle out there.
Please feel free to discuss whatever.